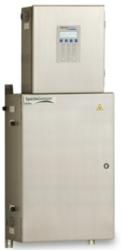 Houston, TX (PRWEB) March 11, 2013
SpectraSensors will take part in the 2013 Canadian School of Hydrocarbon Measurement (CsHm) in Calgary, Alberta on March 19 - 20. The school features two full days of fundamentals in gas and oil measurement, along with panel discussions on important measurement subjects.
Jesse Zapien, Director of America Sales and Andy Brown, Field Service Engineer at SpectraSensors, will conduct hands-on training of SpectraSensors TDL Moisture Analyzers, providing an overview of basic troubleshooting and field lessons. Training sessions will be held on Tuesday, March 19 at 2:10pm and Wednesday, March 20 at 9:30am and 1:10pm.
In addition, Sam Miller, Director of Product Line Management, Natural Gas at SpectraSensors, will present a paper at CsHm on Wednesday, March 20 at 1:10 pm. Miller will discuss the Determination of H2S in Natural Gas using TDL.
More information: http://www.spectrasensors.com
CsHm: http://www.cihm.ca
About SpectraSensors, Inc.
SpectraSensors is a leading manufacturer of optically based moisture analyzers and H2S analyzers for analytical process markets. SpectraSensors uses Tunable Diode Laser Absorption Spectroscopy (TDLAS) in an array of products such as Ambient Air Monitoring Analyzers, Moisture Analyzers (Hygrometers) and Gas Analyzers for Natural Gas Pipelines and Processors, Petrochemical Refineries and Chemical Companies.
SpectraSensors Gas Analyzers measure: Moisture (H2O), Carbon Dioxide (CO2), Hydrogen Sulfide (H2S), Oxygen (O2) and more.
###