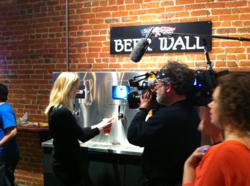 There's no wait and you pour as MUCH as you want of WHAT you want. This is how people generally want to consume, casually and naturally
Philadelphia, PA (PRWEB) March 13, 2013
With St Patrick's Day around the corner bar owners see the 'high holiday' of beer drinking as an early-in-the-year opportunity to showcase their establishment to new patrons, hoping that it remains in their lexicon for future watering hole visits. So, making a great first impression probably matters, right? That seems to be fast becoming self-serve beer, wine and liquor stations. Yes, that is correct, customers can serve themselves.
Don't worry, the makers of the units have managed to do that AND maintain responsible drinking standards. Indeed, Declan Duggan co-owner at Innovative Tap Solutions said, "We are technically twice as responsible as the majority of states' law. In most cases patrons can buy a pitcher of beer, which is a four pint vessel. We only allow consumers access to two beers at a time before they are to be re-assessed by a staff member for re-serving." Innovative Tap solutions makes a mobile beer wall and mobile draft beer tables where customers can walk up and pour their own beer with the aid of an RFID wristband that opens their tap choice for them and they pour what they want."Customers actually like serving themselves beer, who wouldn't? There's no wait and you pour as MUCH as you want of WHAT you want. This is how people generally want to consume, casually and naturally," remarked Duggan.
Intelligent dispense in the wine segment is starting to get a little crowded now too as savvy investors and inventors are waking to the obvious market that is available. Enomatic are a large contender vying for the top spot but there are others jockeying for their share such as Wineemotion, N2Vin and Emerald Wine Systems, highlighting the fact that more competition continues to enter because the pie is growing.
Liquor seems a much trickier proposition. With the stench of prohibition still lingering almost a century later the regulatory hurdles in place for getting a customer-facing self-serve liquor unit are quite daunting. Most state liquor authorities run the other direction at the thought. Self-serve in this segment will prove difficult in the US but internationally there seem to be many opportunities where their liquor laws are less stringent and, possibly, coupled with less customer abuse of the 'hard stuff'.
In an era where technology is hurtling us forward at a greater pace than ever before it makes sense that gas, laundromats and yogurt should not be the only self-serve bastions of this new frontier and when you visit a pub in the next two weeks see if the place is impressing you by not making you wait a half hour for the beer to go with your plate of corned beef and cabbage…it's finally OK to be self-serving.