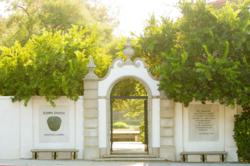 We are thrilled HOPE chose to recognize Lyanne and her commitment to her community and to her work in making a difference in the lives of young people
Claremont, Calif. (PRWEB) March 08, 2013
Hispanas Organized for Political Equality (HOPE) has named Scripps College senior Lyanne Dominguez '13 as one of five 2013 Future History Makers because of Dominguez's career aspiration to work at a non-profit organization that helps expose Latino students in underserved communities to the power of music.
"We are thrilled HOPE chose to recognize Lyanne and her commitment to her community and to her work in making a difference in the lives of young people," said Scripps College President Lori Bettison-Varga.
Today, Dominguez was honored at HOPE's annual Latina History Day conference at the Millennium Biltmore Hotel in Los Angeles. Future History Makers are Latinas between the ages 18 to 25 who have distinguished themselves in their efforts to ignite positive changes in their communities. For the past three years, HOPE has celebrated Future History Makers at its event.
A music major at Scripps College, Dominguez has also participated in the College's high school preparatory program, the Scripps College Academy. Dominguez, who is minoring in Latin America studies, spent last spring studying Spanish and Latin American literature in Spain. This past summer, she received a grant from the Los Angeles County Arts Commission to serve as the marketing and event production head intern for the Levitt Pavilion Pasadena. Dominguez is from Montclair, Calif.
This is the second consecutive year that a student from Scripps College has been chosen for this distinguished statewide award from HOPE. Last year, Melissa Mesinas '12 was honored for her original research on Zapotecs who live in Los Angeles and Oaxaca, Mexico.