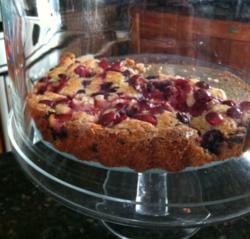 Customers tell me all the time how much their family loves T'ART - their kids just love it as a good snack and it also is a great hostess gift
Brookline, MA (PRWEB) March 09, 2013
T'ART an easy homemade dessert mix created by Linda Amir, garnered attention from the editors at Edible Boston magazine in the March print and online edition. The magazine features Amir and what drove her to create New England's first pre-packaged tart mix.
This featured article describes Linda's journey in bringing his delicious favorite to market for all of us to enjoy. This human interest story is about a very personal goal and a commitment to overcome challenges – like not knowing anything about the food industry when she decided to embark on this adventure.
"Being featured in this highly acclaimed and very selective magazine was a personal goal and I am so thrilled" says T'ART creator Linda Amir. "T'ART has made a difference in the kitchen by being a very convenient, versatile and fast dessert that is delicious every time it is made."
T'ART is a prepared baking mix which uses staples from the kitchen – eggs, butter (easily substituted with applesauce or greek yogurt) and fruit – fresh or frozen. "Customers tell me all the time how much their family loves T'ART - their kids just love it as a good snack and it also is a great hostess gift," Amir says.
Edible Boston magazine is part of the Edible Communities network, and is the only food magazine in Boston devoted exclusively to local food. Boston, MA.
To read more about Linda and the success behind T'ART, foodies can visit http://www.edibleboston.com and http://www.amourcreations.net.
About Amour Creations: Created with a unique idea and a sweet tooth in mind, Linda Amir, founder and creator of the T'ART maker, set out to create the perfect baking mix that's quick, easy and delicious. An alternative to pies and cakes, T'ART is a baking mix that pairs "art" with "tart" and has been providing no-fuss sweet and savory tarts to customers for a little over two years. For locations on where to buy, visit http://amourcreations.net/find-us-near-you/ or purchase the mix online.