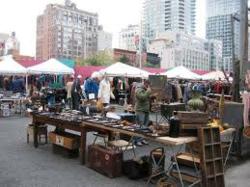 (PRWEB) March 07, 2013
Wholesale merchandise report has been published by Donny Lowy, the CEO of CloseoutExplosion.com, and a published author with business books for sale through Amazon and Barnes and Noble. Donny Lowy has compiled an interesting report based on his writings, research, and personal experience in the closeout business. He started his New York wholesale business career selling children's socks by walking to stores and offering them cases of socks. He then spent a year selling at a flea market, from where he progressed to renting a warehouse from which he first wholesaled to dollar stores in the United States, and then further grew the business to where he now exports brand name clothing for boutiques in Nigeria, South Africa, the Bahamas, Trinidad, Dubai, among many other countries. His wholesale articles contain information which he learned through the challenges and opportunities which he faced by running his business.
His latest report contains detailed information as to the definitions of terms used in the liquidation business, such as wholesale, closeouts, irregulars, and salvage. Each term is explained and presented along with examples to help resellers utilize this practical information which they can then implement in the operation of their own businesses. By providing this information Donny Lowy is able to help further the education of vendors and buyers to enable the closeout market to continue to grow. While the opportunities in the field are vast, even a veteran can use guidance in this quickly changing market.
"I have always believed that the more experienced and knowledgeable the players in the closeout business are, the more money can be made on every level. If a wholesaler truly understands the needs of his clients, he will be able to supply them with the appropriate merchandise for their markets, whether they are running a dress store in Lagos or a shoe store in Dubai. And if the retailer, whether he is a New York flea market vendor or an eBay seller based in Canada, understands the needs of the end users that he or she will be selling to, they will be able to make better buying decisions and in turn gain by having advanced marketing and sales strategies at their disposal," said Donny Lowy, who runs his business from his Greenpoint, Brooklyn warehouse.
His wholesale showroom stocks an array of fast selling products for both domestic and international liquidation sellers. Wholesale shoppers can also place an order through his overstock fashion site CloseoutExplosion.com
The report reviews important topics of interest to all types of fashion and general merchandise retailers such as:
The Meaning Of Irregular Merchandise
The Type Of Irregular Inventory You Can Buy
How To Profitably Sell Irregular Products
Profit Opportunities In The Seconds Category
What Salvage Means, And Why You Need To Be Very Careful With This Potentially Lucrative Category
What To Look Out For When Inspecting Merchandise Which You Are Considering Purchasing
How Products Really Become Closeouts, Understanding This Is Crucial
Great Sales Channels For Closeout Products Such As eBay And Exporting