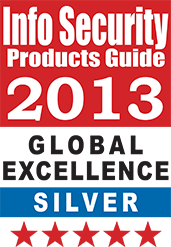 Honolulu, HI (PRWEB) March 07, 2013
ActionPacked! Networks today announced that Info Security Products Guide, the industry's leading information security research and advisory guide, has named LiveAction the Silver winner of the 2013 Global Excellence Awards in Network Security and Management. The security industry celebrated its 9th Annual 2013 Global Excellence Awards in San Francisco by honoring excellence in every facet of the industry including products, people behind the successes and best companies.
More than 50 judges from a broad spectrum of industry voices from around the world participated and their average scores determined the 2013 Global Excellence Awards Finalists and Winners.
LiveAction is an easy to use network management tool that simplifies the complexity of monitoring, analyzing, and configuring technology areas such as: QoS, LAN, NetFlow, Routing, and IP SLA. The award-winning software enables next-generation networking technology architectures to accelerate business productivity and improve operation efficiency.
Download a free trial of LiveAction at http://www.actionpacked.com/liveactiondownload. For more information on ActionPacked! Networks, visit http://www.actionpacked.com.
Tags/Keywords:
Network Management, Network Performance Management, Network Visualization, Network Provisioning, Network Troubleshooting, Network Security, Collaboration, Virtualization, Data Center, Borderless Networks, Medianet, Application Visibility and Control (AVC), Cisco QoS, QoS, NetFlow, S-Flow, J-Flow, IPFIX, FNF or Flexible NetFlow, IPSLA, LAN, LiveAction,
About ActionPacked! Networks
ActionPacked! Networks is the leader in quality-of-service software for implementing VoIP, Telepresence, Unified Communications, Medianet and other mission-critical services. The company's LiveAction software increases network service quality and shortens outages by providing true understanding and precise control using rich visualizations and direct device interaction. LiveAction is a sophisticated network management tool that helps simplify the complexity of monitoring, analyzing, and configuring technology areas such as: QoS, LAN, NetFlow, Routing, and IP SLA embedded inside Cisco devices to provide an all-in-one solution that can support both QoS auditing and provisioning.
About Info Security Products Guide
Info Security Products Guide sponsors leading conferences and expos worldwide and plays a vital role in keeping end-users informed of the choices they can make when it comes to protecting their digital resources. It is written expressly for those who are adamant on staying informed of security threats and the preventive measure they can take. You will discover a wealth of information in this guide including tomorrow's technology today, best deployment scenarios, people and technologies shaping info security and market research that facilitate in making the most pertinent security decisions. The Info Security Products Guide Awards recognize and honor excellence in all areas of information security. To learn more, visit http://www.infosecurityproductsguide.com and stay secured.
###
ActionPacked! Networks and LiveAction are registered trademarks of ActionPacked! Networks.