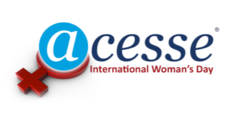 Minneapolis, MN (PRWEB) March 08, 2013
Women's Day is an opportunity to truly observe the efforts and impact that women have on the world. At Acesse women have a great impact on the sales and traffic to Acesse's site; women between the ages of 45-54 make up the largest demographic of members and foot traffic at Acesse. Women are an important part of Acesse and the overall growth of technology throughout the world.
The average woman that visits Acesse generally has children, is college educated, and browses the site from home. Acesse provides great tools that women around the world have discovered, to build their own businesses. Women use Acesse not only for the great search results, but also for fun and to earn additional income.
It pays to search with Acesse as members can earn iRewards that are redeemable for valuable goods and services, like Amazon gift cards. They can also earn cash through viewing and rating ads on the proprietary AdView platform. Some enterprising women earn a full time income and work from home as Acesse Marketing Consultants.
Women are leading the success of mobile marketing and advertising because they are the dominant users. According to Acesse research:

97% [of women] use SMS
77% send and receive photos
59% use social networking
These figures are high compared to smartphone use by men. The future for business success rests with mobile. As mobile usage by women grows, so does the demand for local businesses to be using mobile marketing technologies.
Acesse advocates mobile marketing for local business through its highly anticipated Mobile Business Solutions coming to members worldwide.
Acesse is proud of the many women around the world who choose to partner with Acesse and utilize it for success in entrepreneurial business ventures.