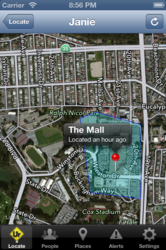 Austin, TX (PRWEB) March 10, 2013
The Internet is no stranger to concerns about privacy, but with a mobile device in almost every pocket, these issues are taken to a whole new level. By adding advanced GPS technology, coupled with increasing availability of wireless networks, location data becomes considerably easier to acquire. Marketing companies all over the U.S. are salivating at the thought of targeted advertising - for example: sending an advertisement for a restaurant to a user just as they are passing by it. Users should be fully aware of how this information is being captured, and for what uses it is being put to. Apps such as WhatsUr20 contain very sensitive information, and strive to protect that information and to let the user make the decision about who can have that information.
By allowing each user to set up specific locations (known as "places" in WhatsUr20), the app allows each user to customize what other users can view them at each location. With most of the location-tracking apps on the market, a user selects a friend to share locations with, and the friend can now view their location anywhere in the world. By allowing the user to limit which friends can see their location, based on the actual location itself, WhatsUr20 protects a user's privacy in ways that other apps simply cannot. For example, a child's exact location (anywhere) could be shared with a parent, but that same parent may only want the child to know if the parent is at home or at work. The child cannot see where the parent is (only seeing the words "Out and About" for the parent's location) unless the parent is either at home or at work. Comments from iTunes users seem to echo this sentiment.
Most people tend to forget about the privacy concerns when the good outweighs the bad. In automobiles, GPS tracking has been used for a long period of time to aid in the recovery of stolen vehicles. A person gives up a certain level of privacy in exchange for the benefit of having their car found. WhatsUr20 provides a benefit that every parent needs - knowing when their child is home safely. Using a user's defined places, an alert can be set up to notify the user when their friend/family member has arrived or left that place. Parents, for example, take comfort in knowing that their kids have left school and knowing the moment that they arrive home safely. A father can know when his wife is at the office working late, and not worry or need to bother her with texts that disturb her. An hourly worker can designate his workplace as a location and share his whereabouts with his boss, but only when he is at work. By setting up the alerts, a manager can know when his employees arrive at and leave work. WhatsUr20 has placed a very protective barrier around location data, and made it easy to use for great benefit while giving up very little privacy.
There are other location-tracking services currently in the market, and some new ones rumored in development. Other location-tracking services (sometimes known as geolocation apps) have several limitations (some of them crippling to the point that these apps are unusable). Some charge an annual subscription. Many require a user to actively open the app and "check-in" manually, and do not provide an automatic update. The ones that do automatically update have a tendency to drain battery life. WhatsUr20 has excellent battery life, while maintaining a high degree of accuracy and automatically updating location data - features that are not usually available together.
WhatsUr20 is an iPhone and Android app available now in the App Store (WhatsUr20 - App Store) and Google Play (WhatsUr20 - Google Play). It is developed by BATO Technologies, Inc., an upwardly trending mobile-apps development company. WhatsUr20 debuts at The South by Southwest® (SXSW®) Interactive Tradeshow (March 10-13, 2013), stand 1443.
###
If you'd like more information about this topic, or to get in contact with the developers, please call 866-990-1616 or email info(at)whatsur20(dot)com.