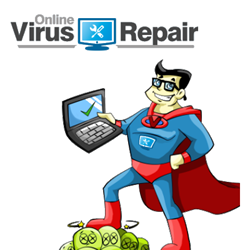 San Luis Obispo, CA (PRWEB) March 08, 2013
Broadcast communication regulator OfComm released a report stating the average person spends an astounding 7.5 hours per day utilizing technology. That means people are spending 45% of their waking hours using technology. Dan Steiner, founder of OnlineVirusRepair.com, stated, "The report shows how tied we are to technology. As people's lives move into the virtual world, they become increasingly vulnerable. No sensible person would leave their home, valuables and sensitive information out for people to steal, but that is what is happening in a virtual sense. People are leaving their computers exposed to threats even though they are full of sensitive information. It's like leaving your family safe unlocked with the door open. The amount of time people spend browsing the internet has caused the computer service industry to grow rapidly."
With more and more people leveraging technology to help them through life, the question is – are people too reliant on computers and technology? Steiner says no, but with a caveat. "Technology is a great tool, but the more people rely on it - the bigger target they become. The right protective mechanisms have to be put in place. In addition, people should have a resource available to remove viruses and malware should their computer be infected."
OnlineVirusRepair.com specializes in remote virus and malware removal. Most technicians are able to get people's computers fully functioning within 30 minutes. Customers are able to call a toll-free number or conduct a live chat with an American technician. After a free scan is conducted, the technician will not move forward with cleanup without customer permission. After the problem is solved customers receive a full report detailing what happened and how to prevent future issues.
It is estimated that viruses and malware cost U.S. consumers and businesses over $70 billion a year. And that's only the cleanup costs. New computer viruses are unleashed all the time with the sole aim to steal sensitive information. To help educate consumers, OnlineVirusRepair.com publishes a virus guide detailing the latest threats on their website, and how to avoid falling victim. They also provide detailed and simple instructions on how to remove them.
"No one really thinks about protecting their computer until it's too late. I recommend people use the web with caution, back-up their data, and always be cautious about storing sensitive information on websites."
To learn more about OnlineVirusRepair.com and the latest threats, visit them on the web at http://www.onlinevirusrepair.com.
About OnlineVirusRepair.com
OnlineVirusRepair.com is an American based company specializing in online virus removal for individual computer users and businesses. The company was founded in 2012 by Dan Steiner and is headquartered in San Luis Obispo, CA. Customers with infected machines can call or chat with OnlineVirusRepair.com technicians to have viruses/malware/spyware removed remotely without the hassle of taking their computer "into the shop." Technicians are able to remotely remove threats even without the client being at their computer; often in 30 minutes or less.