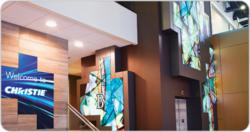 Each year, DSE award winners reveal what's current and evolving in digital signage and mobile media development, deployment and content creation
Cypress, CA (PRWEB) March 13, 2013
Christie® leaves Digital Signage Expo® (DSE) on a high note, with a Silver Apex award under Business, Industry and Government category for its digital signage display of Christie® MicroTiles® in the company's new West Wing building expansion. The iconic display in its Kitchener, Ontario corporate office intersects technology, architecture and artistic design. Working with Arsenal Media, SRM Architects and rp Visual Solutions, it features sophisticated architectural integration and a unique technology solution to drive the 70Mpx creative canvas created for the company's Artist-In-Residence Programme and other content development partners.
"Each year, DSE award winners reveal what's current and evolving in digital signage and mobile media development, deployment and content creation," stated Sean James, vice president of Managed Services, at Christie. He adds, "To create custom digital signage installations and content that engage consumers and visitors means working collaboratively with experts in various fields who use today's advanced technology. Christie congratulates all partners in integration, installation, content and architectural design who received 2013 DSE Apex and Content awards."
At the DSE awards ceremonies on February 27, several Christie products were featured in partners' winning entries. The Apex awards honor innovation in the development and deployment of technology in the global digital out-of-home networks (DOOH) industry, while the Content awards honor innovative and compelling content created for digital signage in the DOOH networks.
Including Christie's Silver Apex award for the company's lobby digital signage, partners collectively took home 10 awards in four categories which included Christie visual display products. The categories were Arts, Entertainment & Recreation, Business, Industry & Government, Retail, and Education & Healthcare.
GOLD APEX AWARDS – Arts, Entertainment and Recreation
Westfield San Francisco Centre for its "Under the Dome" architectural projection mapping experience created by Obscura Digital, using Christie Roadster S+20K DLP projectors.
San Francisco Public Utility Commission, for the "Digital Arts Panorama" designed by Obscura Digital, using a Christie® MicroTiles® video wall that stretches 58 feet long and sits atop a superstructure pedestal custom fabricated by rp Visual Solutions. Nathan Houchin, technical director at Obscura Digital commented, "We chose Christie MicroTiles because we didn't want to sacrifice resolution or be concerned about off-axis viewing and serviceability."
GOLD APEX AWARDS – Education and Healthcare
University of Waterloo Stratford Campus and its massive three-storey (6.5 feet wide by 30 feet high) Christie MicroTiles' installation, the tallest in the world, was a collaboration amongst Christie's Research and Innovation team, Westbury National Show Systems Ltd., and rp Visual Solutions. Christie's visual technology displays are playing a role in the University's mission to intersect technology, business and art.
Arsenal Media received a Bronze Apex award for its Fountain of Content, a custom-built structure featuring Christie MicroTiles, LCD, LED, Christie projectors (3D projection mapping) and accessories to control the show and an interactive sensor camera for creating visual effects. And, under the Retail category, Rose & Thistle Media received a Bronze Apex award for its unique holographic window display coined "Inverse Parallax." As technical supplier, Christie worked with Rose & Thistle Media, Westbury National Show Systems and Dynamix Professional Video Systems to realize Holt Renfrew's 175th anniversary celebration in Toronto, which featured 700 Christie MicroTiles, Christie HD10K-M projectors and Christie Roadster HD20K-J projectors.
Content creation award winners
The Content Awards, which honor innovative and compelling content created for digital signage in the DOOH networks, were presented to winners in 10 different categories from a field of 70 entrants. Christie's partner Arsenal Media received a Bronze content award for Christie's West Wing MicroTiles display, a gold for the Fountain of Content, a silver for Wilfrid Laurier's 100th anniversary MicroTiles display and a Bronze award for The Discovery Wall, developed with Christie for the American Association of Museums (AAM) showcasing Christie MicroTiles as a digital platform and featuring flash-based content that actively enables users to engage in a multi-zone experience. Obscura Digital won silver for the content on the San Francisco Public Utility Commission's Digital Arts Panorama display and Rose & Thistle Media won a Gold Content award for the Holt Renfrew 175th anniversary event.
Download The Book of Shapes. Discover how Christie MicroTiles are being used as visual building blocks in engaging, eye-catching displays all over the world.
About Christie®
Christie Digital Systems USA, Inc. is a global visual technologies company and is a wholly-owned subsidiary of Ushio, Inc., Japan. Consistently setting the standards by being the first to market some of the world's most advanced projectors and complete system displays, Christie is recognized as one of the most innovative visual technology companies in the world. From retail displays to Hollywood, mission critical command centers to classrooms and training simulators, Christie display solutions and projectors capture the attention of audiences around the world with dynamic and stunning images.
Media contacts:
Carmen Robert
Christie
Cell: 519-572-5824
carmen.robert(at)christiedigital(dot)com
Mario Almonte
Herman & Almonte PR
212-616-1190, ext. 267
malmonte(at)herman-almontepr(dot)com
Follow Christie at:
Facebook.com/christiedigital
Twitter.com/christiedigital
#christiedigital.com
"Christie" is a trademark of Christie Digital Systems USA, Inc., registered in the United States of America and certain other countries.
Christie® MicroTiles® is a registered trademark of Christie Digital Systems USA, Inc.
DLP® is a registered trademark of Texas Instruments