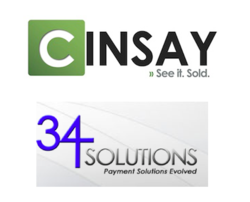 "We reviewed the Cinsay platform thoroughly and found it to be the perfect technology match for our company.. Herschel Walker, 34 Solutions
Austin, TX (PRWEB) March 08, 2013
Cinsay and 34 Solutions have entered into a worldwide bi-lateral license agreement whereby 34 Solutions is a licensed reseller of Cinsay's Smart Store™ technology and where Cinsay commits to exclusively utilize 34 Solutions to provide payment gateway services to process the Smart Store™ platform transactions. Cinsay is licensed to integrate 34 Solutions' PressPay product into its technology and platform. The agreement also allows for Cinsay and 34 Solutions to take advantage of each other's unique products by incorporating them into a superior product offering for merchants looking to enhance their eCommerce presence.
"We reviewed the Cinsay platform thoroughly and found it to be the perfect technology match for our company. Their patented social video commerce solution delivers a conversion rate twice that of standard e-commerce applications," said Herschel Walker, Chairman of 34 Solutions. "The 34 Solutions company and its owners have made a significant multi-seven-digit investment in Cinsay because we know the potential of a viral video store in today's marketing landscape dominated by Social Media. Through our affiliates and the far reach of our independent sales organizations, we believe we can sell several million new Cinsay Smart Stores over the next 18 months. This alignment promises to greatly benefit both companies while delivering a revolutionary web-based marketing and eCommerce solution to businesses of all sizes." Walker added.
Mr. Walker will also be attending R2RLIVE, a streaming event on March 16 in Austin, Texas hosted by Sean "Diddy" Combs during the South by Southwest festival.
According to the U.S. Census Bureau and the Federal Reserve, nearly $2 trillion is spent every year via credit cards. In fact, over 181 million people in the U.S. alone carry at least one credit card. Based on those statistics and the continued growth of eCommerce and online video, the companies' market is positioned well. Additionally, considering 34 Solutions' relationships with key merchant processors, registered ISOs, and large retail merchants, the sales channels are expected to produce several million merchant relationships due to the strength of this combined solution.
"We couldn't be more excited about this venture," said Christian Briggs, Founder and CEO of Cinsay. "With our current expansion into Russia and Latin American markets along with Asia later this year, 34 Solutions will accelerate our ability to provide cutting-edge and competitive technology for merchants in these markets," Briggs added.
The partnership comes as Cinsay is adding new features to its Smart Store™ platform including a new technology release for March 28th, which will speed up transaction times and visually enhance the video shopping experience for viewers. The company also launched the new Russian portal, Cinsay.RU this year.
About Cinsay, Inc.
Cinsay has created a next generation social eCommerce, viewer interactive, video-based platform for any individual or size business. Cinsay's SaaS based technology enables everyone to sell products, services, capture donations, and generate leads all inside the patented Smart Store™ technology. Additional services available to individuals, SOHO's, enterprises and nonprofits, are Cinsay's complete turnkey business solution via exclusive on demand, made to order merchandise featuring hundreds of personal, brandable products like t-shirts, caps, mugs and iPhone covers available at CinsayOnDemand.com. Now, anyone can be in business within minutes with no inventory whatsoever. Merchants benefit from Cinsay's in-depth reporting tools and real-time statistical data. Cinsay's embeddable platform is compatible with web and mobile devices and is highly scalable via its enterprise-level hosting and distribution networks. Full video production is available through CinsayProductions.com. Cinsay aggregates and promotes merchant stores via its searchable consumer portal, MyCinsay.com. Notable clients include: GameFly, Neiman Marcus, Wet Seal, decompras, and California Closets. Forbes has named Cinsay as one of "America's Most Promising Companies" and by eTail Conferences as a "Rising Star" in innovation for 2012.
About 34 Solutions
34 Solutions, LLC ("34 Solutions") offers an international gateway solution for processing electronic payment transactions in 18 major currencies and has been integrated with all major U.S. processors as well as approximately 70% of the international processors. 34 Solutions has created partnerships in order to offer merchants processing and various payment solutions internationally, including the PressPay "quick checkout" application.