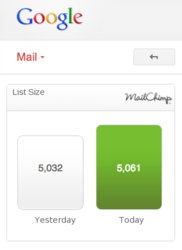 Small business owners are busy and logging into analytics applications isn't their favorite thing to do
(PRWEB) March 08, 2013
Informly, the small business analytics service has recently launched their 'Analytics by email' feature.
Informly launched last year to help small business owners make sense of the maze of data now at their disposal thanks to cloud computing. While having a one stop dashboard of stats from various cloud services was well received, founder Dan Norris wanted to take it a step further.
"When we first launched Informly we launched it as a 'dashboard'. The idea was people could log in and get all of their key metrics from within the one spot. The major benefits were the ability to view simple and consistent charts as well as save time by not logging into all services. But we found that often small business owners don't even want to do that! They are busy and logging into analytics applications isn't their favorite thing to do".
So the team developed a feature that emails customers their key business information (website stats from Google Analytics, financial data from Xero etc) in simple HTML emails enabling them to skim their emails for the key metrics without even opening an attachment.
Dan explains, "Customers are already telling me that this feature is much more beneficial to them than a traditional dashboard because it really helps us deliver on our promise of informing business owners while enabling them to focus on their business".
Informly customers can get monthly reports or even daily reports if they are super keen and the agency version enables web design companies to send reports to their clients as well.
The colour coded reports only cover key stats so people are still encouraged to log in for more detailed information such as yearly trends or even access individual services if they see something that looks like it needs attention.
Informly is free to try and $13/month to use after the 2 week trial. It can be accessed via the web, mobile and now by email. People can learn more at inform.ly
About Informly
Inform.ly talks to a small business's favorite cloud services and provides the key metrics in a simple scannable format.