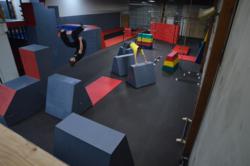 This is the movement we as humans evolved doing and are all born to do.
Concord, California (PRWEB) March 08, 2013
The first dedicated parkour training program in the Western hemisphere just opened a Bay Area parkour gym, APEX Movement Northern California. Founded and run by fitness and health professionals, APEX Movement is a movement arts facility that supports fitness through natural movements and bodyweight exercise. The grand opening celebration will be held over the weekend of March 22–24, and is open to the public and the media. The APEX Movement Pro Team will be in town to perform and teach at the event. Visit APEX Movement NorCal's Facebook page for a full schedule of grand opening events.
"Whether you've only ever seen parkour on YouTube or you're an experienced traceur or traceuse, we invite you to stop by APEX Movement to check out the fitness center, watch a challenge or try a class," invited Alan Connealy, the certified parkour instructor who expanded APEX Movement to the Bay Area.
Connealy, who is also a certified chiropractor, has been a longtime student and instructor at APEX Movement's Colorado locations. He wanted to bring training based on natural and functional movement to interested locals of all ages and fitness levels. Located in Concord, APEX Movement NorCal now offers parkour classes and classes on freerunning, ukemi (the art of falling), Ninja Warrior training and more.
"As a chiropractor, I have studied the science of how we as humans evolved. Evolutionary science has found that daily natural movements create beneficial muscle tone and functional strength and fitness," explained Connealy, who used his own parkour training to become a contestant and a finalist on two seasons of G4's American Ninja Warrior.
Connealy continued, "Playing and using natural movements is not only fun, but also increases strength, agility, speed, flexibility and stability - and these skills translate to everyday life. This is the movement we as humans evolved doing and are all born to do."
Many people learned about parkour from watching YouTube videos of daring running and jumping around urban environments, or maybe from the opening scene of the most recent James Bond film. But the art of parkour is much more than incredible athletic stunts. Grounded in the Natural Method developed by Georges Hébert in the early 1900s, parkour incorporates neurological, emotional, mental and social benefits in addition to physical fitness. It's about overcoming and adapting to mental and emotional obstacles as well as physical barriers.
APEX Movement incorporates the parkour philosophy of reclaiming what it means to be a human being. Parkour teaches people to move using the natural methods that they should have learned from infancy. It teaches people to touch and interact with the world rather than be sheltered from it.
"In our computerized society, we lack opportunities to form deep relationships with ourselves and others. Parkour is a fun, challenging opportunity to be part of a non-competitive, supportive and encouraging community," said Connealy. "APEX Movement's mission is to foster a movement-based community that forms positive social connections, which are essential to having a happy and healthy life."
For more information about the grand opening of the new Bay Area parkour training center, call (925) 609-4004 or visit http://www.apexmovementnorcal.com.
About APEX Movement Northern California
APEX Movement Northern California is a newly opened location of APEX Movement, the first formal parkour training program in the Western hemisphere. The East Bay parkour fitness center was started by Alan Connealy, a certified parkour instructor and chiropractor who was a contestant on seasons 3 and 4 of American Ninja Warrior on G4. The Bay Area parkour fitness center's goal is to create a strong local community based on natural and functional movement.
APEX Movement Northern California now offers classes on parkour and freerunning, ukemi (the art of falling), time trials, strength and conditioning, agility, women's parkour, and Ninja Warrior training. The parkour center is located at Located at 930 Detroit Ave., Suite A, Concord, CA 94518. For more information and a full class schedule, visit http://www.apexmovementnorcal.com.