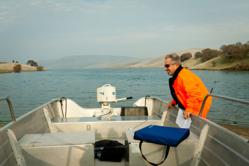 Tournament anglers and others who move between these lakes for the best fishing have wanted something like this...
Lake Hemet, California (PRWEB) March 25, 2013
Boat inspections of quagga mussels and other invasive species conducted at any one of these lakes: Hemet, Perris, Silverwood, or Diamond Valley, will be honored at all of the lakes, starting April 1.
In a joint statement, California State Parks and Quagga Inspection Services,LLC, (QIS) announced a new feature, called "reciprocal banding," that will allow boaters to move between the four lakes without needed to be reinspected. "This has long been a desire of the boating public," said Marshall Pike of QIS.
Boats that have cleared inspection at any of the four lakes will be able to enter through a priority 'banded boat' lane, thereby expediting their launch. Inspectors in the banded boat lane will confirm the boat's launch history using QID, a handheld vessel-tracking mobile application that is used during inspections at all four lakes.
"Tournament anglers and others who move between these lakes for the best fishing have wanted something like this," Pike said. "With this agreement, any wet areas found in a vessel that has been inspected and banded will be allowed to pass when the band is checked against its online QID record."
California State Parks Lake Perris Sector Superintendent John Rowe described the agreement as the first cross-jurisdictional memorandum of understanding for boat inspections in Southern California. Rowe predicted it has the potential to become a model of cooperation between water recreation agencies in the task of protecting Southern California water resources from quagga mussel infestation.
Pike added, "It is only because the lakes share a common database of boat inspections provided by QID and that the Metropolitan Water District of Southern California and the Lake Hemet Municpal Water District endorsed this approach, that reciprocal banding is possible."
QIS is a Red Bluff, California company that provides aquatic invasive species inspection services including training, inspections, decontamination and education services to public agencies, including water districts and park and recreation agencies. QIS developed QID a mobile application that provides a digital record of a boat's invasive species inspections.