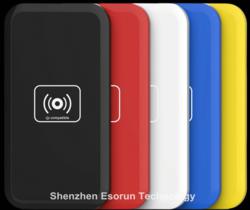 Wireless charger compatible with QI standard
(PRWEB) March 14, 2013
Esorun is proud to announce it will be attending CTIA this May in Las Vagas. People are very excited to appraise it new product lines in Wireless charging. Wireless charging is not a new type of technology and has not been very popular in mobiles. However, as the technology has improved, is now estimated that the sales of wireless chargers in 2013 will be around 180 million dollars due to IHS.
Esorun has now put wireless charging as one of its main product lines. It aims to become one of the top brands in the wireless charging market within 2 years.
"Wireless charging is one of those technologies that you are not aware of how useful it is, unless you start using it" the team leader of Esorun explained.
Esorun's engineers have finished four series of products and all will be displayed at CTIA at Las Vegas in May. The "N7" was Esorun first wireless transmitter mat with an input 5V which was launched just before Chinese New Year with great success.
The following brand new "F" series of wireless transmitter mats will come in 5 stunning colors, and will only be reveled at Las Vagas in May.
Esorun has registered a separate trademark in China and has more countries planed via Madrid Protocol. Esorun also applied to join WPC (wireless power consortium) holder of "QI" standard.
For those who are interested in wireless charging gadgets, they can see more via the official website or go to Las Vegas to feed their eyes on its creativeness.Its booth No. is 7549 in iZone area.
About Shenzhen Esorun Technology Co. Ltd
Shenzhen Esorun Technology Co. Ltd. is a professional technology company that provides a wide range of iPhone and iPad accessories, and other gadget accessories such as wireless charger s, power banks,iPhone 5 battery cases, wireless external hard drives, Bluetooth speakers, air fly mouses and more. For more information, contact George Jiang at sales(at)esorun(dot)com.