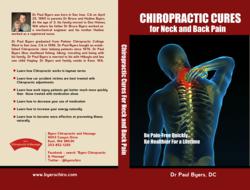 My first goal in practice is to quickly lessen my patients neck and back pain. My second goal is to educate my patients on how to prevent their neck and back pain from returning. My book delivers my second goal to my patients in an easy to read format.
Kent, WA (PRWEB) March 26, 2013
When Dr Paul Byers, Kent Chiropractor, started his practice in 1996, his first goal was to provide the best Chiropractic care for neck and back pain patients by providing quick results. Dr Byers bought the longest standing Chiropractic Clinic in Kent, WA from Dr Huber who has been practicing since the 1970's. After caring for thousands of patients, Dr Byers realized that he has reached his first goal, which was to provide great results to his patients. Great results that show their face throughout the clinic with success stories that fill their Kent clinic walls. Dr Byers, Kent Chiropractor knew that with all of these great results, he owed it to his patients to fulfill his second goal in practice which was to provide the knowledge to his patients to stay healthy for a lifetime, not just after their car accident or work injury.
Dr Byers, Kent Chiropractor, has already started the first of its kind 10 Patient & Dr Question and Answer Series about the 10 most common new patient questions and Dr Byers answers to these questions. One of these videos is answers the question "What Symptoms Does Chiropractic Help?". Dr Byers, Chiropractor in Kent, has addressed several more questions that can be seen online.
Dr Byers' radio show that airs weekly discusses many of the same topics such as "How to prevent neck pain naturally?", "How to overcome whiplash symptoms without drugs" and many others.
Dr Byers' book, soon to be released in mid-June 2013 named "Chiropractic Cures For Neck and Back Pain" will cover lifestyle habits that patients can implement immediately to prevent neck and back pain. Lifestyle habits such as proper sleep position in which you should never sleep on your face or stomach, making sure your computer at work is properly positioned and many others that will surprise most. Dr Byers, Kent Chiropractor, book will be available to buy on amazon by early July.
Dr Byers is currently practicing at Byers Chiropractic and Massage located at 9003 Canyon Drive Kent WA 98030. They can be reached at 253-852-1250 and online at byerschiro. Se Habla Español
Visit Dr Byers on Facebook, go to Facebook and search "Byers Chiropractic & Massage" and also on Twitter @byerschiro.