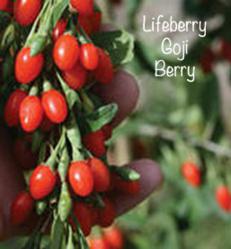 We're excited to add Big Lifeberry goji plants to our selection, as we've received a number of requests from customers seeking to grow goji berries
McMinnville, TN (PRWEB) March 09, 2013
Greenwood Nursery has expanded its selection to include the much sought-after Big Lifeberry Goji Berry Plant, which is now available in quart containers that are available to ship across the nation.
"We're excited to add Big Lifeberry goji plants to our selection, as we've received a number of requests from customers seeking to grow goji berries," explained Greenwood Nursery owner Cheryl Jones. She added, "The benefits attributed to goji berries are many and varied. They improve brain health, vision and boost immune function, and research also shows they can prevent heart disease and even conditions like Alzheimer's Disease."
Goji berry plants are an easy-to-grow plant that can be planted in full sun in a traditional vegetable garden or in a container garden. This sprawling shrub features long, flexible canes with green-grey leaves and purple flowers. They produce small clusters of goji berries -- a small, sweet red fruit that is similar in appearance to mini peppers -- and flowering continues until the season's first heavy frost.
Goji plants are fairly resilient, and they can tolerate some shade and light drought, but they thrive and produce more robust crops when planted in full sun and provided with plenty of water, along with an occasional fertilization.
The Big Lifeberry goji berry plant is currently available in one-quart containers for $21.95 or three for $64.95. Notably, regulations prohibit shipping of this particular plant to adddresses in Arizona and California.
To learn more about Greenwood Nursery's new Big Lifeberry Goji Berry Plants, visit GreenwoodNursery.com for the Goji Berry Plant or other garden plants.