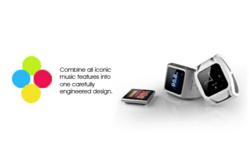 The All New Advancement of portable music through the ages.Think. Design. Create.. .Welcome to NimbX Technology
Waterbury, Connecticut (PRWEB) March 11, 2013
Richard White, founder and CEO of Teklet, is proud to announce the launch of the wristband for iPod Nano 6g. The Teklet wristband is expected to be introduced in the market in March 2013. With combined designs and innovations, this product will bring a great change to people's lifestyle.
Teklet is the world's smartest multifunctional iPod nano 6g wristband that is expected to amaze all gadget lovers. This product has unique designs and styles.
Teklet wristband comes with six colors, including punky pink, cherry red, indiegogo green, arctic white, ninja black and mystic blue. Though it has different colors, its designs and functions remains the same. This product has dual powerful stereo speakers and is built-in with amplifier to maximize volume control and sound. This wristband increases the volume of iPod Nano by 300%. Its ergonomic watch face design may also catch the attention of the user.
As compared to other innovative products, this Teklet wristband is equipped with easy-to-use ear bud wrap and headphone. It also includes multiple clock faces and embedded smooth buttons. This wristband is perfect for all occasions. Apart from its extensive features, it is also built-in with Bluetooth capabilities and other staggering features.
Teklet aims to introduce this wristband not only to surprise their regular customers. They created the said product to make using nano6g more fun and easier. With this new kind of wristband for iPod nano 6g, users will have a convenient way of operating their device.
Due to the popularity of the Teklet wristband, gadget lovers are already on the lookout for it, so they are eager to know when and where to find this product. The function of this advanced product is not just limited to students or gadget lovers. This is available to all consumers who opt to experience the wonders it provides.
Teklet wristband is designed to give customers a remarkable product. They even believe that this will be the talk of the town due to its top of the line features. As of now, online and local stores are already gearing up for the surge of buyers the moment the wristband is finally released.
The crowd funding Campaign link: http://www.igg.me/at/teklet
To know more about the Teklet wristband, readers can start reading blogs and other websites related to it. For further details, they can also send messages to tekletowner(at)gmail(dot)com Or support(at)nimbxtech(dot)com .
Contact: Richard White
Company: NimbX Technology
Address: Waterbury, Connecticut
Email: tekletowner(at)gmail(dot)com or support(at)nimbxtech(dot)com
http://www.nimbxtech.com (Company Home Page)
###