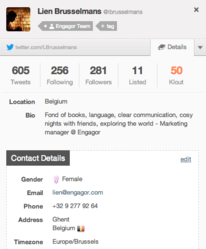 When someone mentions or addresses your brand on social media, it is important to have some background and context. The Engagor Social CRM provides all the information you need.
Ghent, Belgium (PRWEB) March 12, 2013
Social media management tool Engagor helps its users in offering an excellent social customer service and that is why they are launching their built-in Social CRM.
One of the services Engagor offers is the possibility to manage your company's social profiles from within one and the same tool. More and more people are seeking customer support via social media and with this growing amount of conversations there is also a growing need for a Social CRM system. Engagor now offers a Social CRM system as part of their social media management tool. This means companies will be able to create very detailed contact information sheets for all people they engage with on social networks.
Dimitri Callens, VP Customer Success at Engagor, indicates how the Engagor Social CRM works and why companies will love it. "When someone mentions your brand on Twitter or maybe addresses you on Facebook, it is important to have some background and context. Are there any previous conversations you should know about? Do we have this person's telephone number so we can maybe call him if it is a delicate question? Companies can now complete all this information in the user's contact information sheet. They can also integrate their own traditional CRM system to quickly check what information they have on a person."
Engagor wants its users to offer excellent webcare and this goal can only be pursued if your tool is efficient and user-friendly. By adding a Social CRM, Engagor confirms their status as the all-in-one social media management tool. More information can be found on the Engagor blog and support site.
About Engagor
Engagor is an all-in-one social media management tool for companies that want to monitor and manage their online presence. It is a time-saver for companies that want the all-in-one solution: useful analytics about their perception online, as well as the possibility to manage all their social profiles from within one tool with workflow possibilities for social media teams.