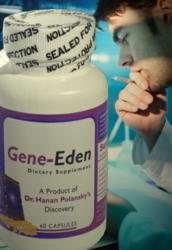 "The key to your health is to reduce the level of the latent viruses in your body to harmless levels." – Dr. Hanan Polansky
Rochester, NY (PRWEB) March 10, 2013
According to new research, polyDNA has learned that the "Human papillomavirus (HPV) is the most common sexually transmitted infection among U.S. military members." [1]
The Massachusetts Society for Medical Research says in a new study that HPV genital warts among service members in the military is the most common sexually transmitted infection. The researchers examined the annual incidence of diagnoses of genital warts (GW) among U.S. service members before and after the availability of the quadrivalent HPV (HPV4) vaccine in 2006. According to this same study, "Incidence rates of GW diagnoses markedly declined among female service members in the HPV4 vaccine-eligible age range from 2007 (following introduction of the HPV4 vaccine) through 2010."
polyDNA points out that HPV is actually the most common sexually transmitted infection in the general population. In fact, according to the CDC, over 20 million people in the U.S. are infected with the Human Papillomavirus. Since HPV is transmitted through any skin-to-skin contact, one can get infected without having sex.
That's why many young people call HPV, "stuff that gets up around the sides of condoms."
Moreover, in some individuals the HPV establishes a lifelong infection. However, infected individual can avoid the symptoms, and help prevent spreading the infection to other people. How? By lowering the load of latent viruses in the infected individual.
"The key to your health is to reduce the level of the latent viruses in your body to harmless levels." – Dr. Hanan Polansky
Although the CDC says that in 90% of cases, the body's immune system clears HPV naturally within two years, sometimes the body has trouble clearing the virus. In these instances, symptoms such as genital warts or dangerous cervical changes can occur.
Gene-Eden-VIR is the only scientifically based, all natural, herbal supplement with scientific studies published in the U.S. National Library of Medicine and National Institutes of Health. It has been specifically designed and formulated to boost the body's own immune system in order to counter many of the latent viruses of today, including the Genital Warts virus.
The truth is, Gene-Eden-VIR is really efficient against the latent version of the virus that causes genital warts; each ingredient was chosen through a scientific approach. PolyDNA scientists scanned thousands of scientific and medical papers published in various medical and scientific journals around the world in order to identify the safest, most effective natural ingredients that target the latent (sleeping)HPV Virus.
Gene-Eden-VIR is totally safe, and in a post marketing study, there are no reports of side effects. In addition, it has been on the market for over three years and no side effects were reported by users during that entire time. Each capsule contains a patented formula of five all natural ingredients including selenium, camellia sinesis extract, quercetin, cinnamomum extract, and licorice extract. In addition, each bottle is GMP Certified.
People can easily access these scientific papers on the ingredients of Gene-Eden-VIR on pubmed.gov.
Gene-Eden-VIR is sold online through the Gene-Eden website. Each bottle of Gene-Eden-VIR (a one month's supply) costs just $34.99.
Ordering Gene-Eden-VIR is completely secure and confidential. Visit and learn how to order now! http://www.gene-eden-kill-virus.com.
To learn more about Gene-Eden-VIR, the only product on the market today that helps the body maintain low numbers of the latent Human Papillomavirus (HPV) and that is scientifically backed by published material, visit http://www.gene-eden-kill-virus.com or call our American line at: 585-250-9999.
Reference:
[1] http://www.ncbi.nlm.nih.gov/pubmed/23461306
###
polyDNA is a biotechnology company that develops dietary supplements using the unique scientific method developed by Dr. Hanan Polansky's, which is based on Computer Intuition. In addition to his unique scientific method, Dr. Polansky published the highly acclaimed scientific discovery, called Microcompetition with Foreign DNA. The discovery explains how foreign DNA fragments, and specifically, DNA of latent viruses, cause most major diseases. polyDNA developed Gene-Eden-VIR (http://www.buy-gene-eden.com), an antiviral natural remedy that helps the immune system kill latent viruses.