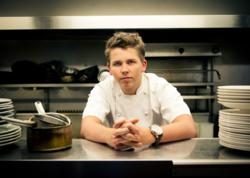 (PRWEB UK) 8 March 2013
Britain's youngest head chef, Luke Thomas, treated David Lloyd Leisure members to a special tasting session when he cooked a dish from their new DLicious menu, supporting health and fitness from the inside, and added a creation of his own.
The 19-year-old celebrity chef, who runs Luke's Dining Room at Sanctum on the Green in Cookham Dean, Berkshire, hosted a live cooking demonstration at David Lloyd High Wycombe where he prepared an energy refuelling chicken, avocado and pancetta salad, followed by his signature dish – oriental sea bass, broccoli and wholemeal rice.
In a groundbreaking approach, DLicious: Fast Fitness Food integrates David Lloyd Leisure's eating philosophies with its expertise in health, fitness, sports and leisure to help people lead active, healthy lives.
Europe's premier health, sports and leisure group launched the menu to support members in being fit on the inside as well as the outside by meeting their core nutritional and lifestyle needs.
Inspired by 40:30:30 (40 per cent good carbohydrates, 30 per cent quality protein and 30 per cent essential fats) and Paleothic healthy and balanced food philosophies, the DLicious approach aims to help members feel energised throughout the day, enabling them to reap the rewards that eating a nutritionally balanced diet brings to physical performance and well-being.
Luke, Springboard's FutureChef 2009 winner*, said: "It's very important to exercise but, equally, a good, balanced diet is key to a healthy lifestyle. The DLicious menu is great because of the variety of healthy, nutritionally balanced meals available – from the granola to the superfood salad to the pesto and chicken flatbread.
"Quality ingredients are key to making a dish taste great and DLicious does just that. It's not over-complicated and really delivers perfectly balanced meals to the customer to a very high standard," added Luke, who trains at David Lloyd High Wycombe.
Andy Lowe, David Lloyd Leisure's head of food and beverage, said: "Luke Thomas is a very talented young chef whose culinary skills are impressing some of the best in the business, so his endorsement of DLicious is a great accolade.
"We're very proud of our menu, which has been devised as a result of feedback from members suggesting they want to enjoy healthier dishes at their clubs. DLicious, which uses more natural, pure and quality ingredients, is underpinned by our mantra, 'Life. Be Fit for It' and is our way of making it easier for members to look after themselves. After all, you are what you eat!"
The DLicious approach to eating is based on:

Healthy and balanced: A variety of choices to meet a daily intake of 40 per cent good carbohydrates, 30 per cent quality proteins and 30 per cent essential fats, providing optimum nutrients and burning fuel more efficiently;
Paleo-inspired dishes: high quality, grain-free, natural foods that deliver better fuel for efficient digestive function, improved regulation of blood sugar levels and more energy all day;
Every now and then: The approach recognises the desire for choice and reward with an occasional indulgent treat.
A children's menu, jam-packed with tasty, wholesome foods, has also been specially developed to complement the adult menu and make it easier for parents to make healthy choices for their youngsters.
*See Luke Thomas cooking DLicious-style on: http://www.youtube.com/watch?v=UKfsVRQcWNg
ENDS
Note to editors: For further information about this press release, contact the David Lloyd Leisure press office on 01707 289833/4 or email press(at)davidlloyd(dot)co(dot)uk .
About David Lloyd Leisure Group
The David Lloyd Leisure Group operates 81 clubs in the UK and a further 10 clubs across Europe, plus the new high street concept, David Lloyd Studio, in Putney and Winchester. It has over 440,000 members and employs 6,000 people. This includes an expert health and fitness team of over 1,800, while it contracts the services of more than 400 tennis professionals. Across all clubs, David Lloyd Leisure has over 150 swimming pools (of which half are indoor) and offers over 10,000 exercise classes per week. Every week 20,000 children learn to swim at David Lloyd Leisure and 14,000 learn to play tennis. Its racquets facilities are unparalleled with 700 tennis courts as well as 180 badminton courts and 140 squash courts. Additional facilities include health and beauty spas, club lounges with free internet access, crèches, nurseries and specialist sports shops.
About Luke Thomas
Luke Thomas launched Luke's Dining Room, at Sanctum on the Green, near Marlow in Berkshire in February 2012, with business partner, restaurateur and hotelier Mark Fuller. Born and raised in North Wales, Luke started cooking at the age of three and won Springboard's FutureChef 2009. *FutureChef is the national culinary programme organised by the UK-based hospitality charity aimed at developing and nurturing young people's skills and interest in the hospitality industry. Luke has worked alongside a host of Michelin-starred chefs at world-renowned establishments, including The Fat Duck, Rhodes W1 and Rhodes, Dubai, Alinea in Chicago, La Pergola in Rome, Burj Al Arab in Dubai and The French Laundry pop-up with Thomas Keller at Harrods. He is due to appear on BBC2's Great British Menu from March 18-22 and will feature in a BBC3 documentary, Britain's Youngest Head Chef, on May 9. His cookbook is due to publish later this year.