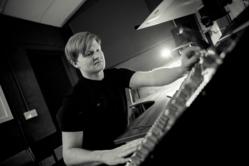 With the Spotlight Experience we're offering people something really special. It's far more than just a bit of time in a studio.
(PRWEB UK) 22 March 2013
Studio 24 announced the launch of their amazing new product today which will give amateur singers the opportunity to be a star for a day with an incredible 'Spotlight Experience.'
The Barnsley based studio is run by a young team of top producers and engineers who've worked with a host of famous names, including Mark Ronson, Katy B, Will.i.am and The Script. Their impressive credentials have been attracting professional and amateur musicians alike to take advantage of the second to none facilities and hardworking team at Studio 24 for more than 2 years, but the recent launch of their Spotlight Experience has added a further string to their bow and their star for a day package is fast becoming one of the hottest gifts for 2013.
Be a Star for a Day!
We asked studio 24 producer Andrew Jenkinson what potential pop princes and princesses could expect from a day in the studio with the team.
'With the Spotlight Experience we're offering people something really special. It's far more than just a bit of time in a studio,' explained Jenkinson.
'Before you pay a visit, you can choose from our enormous collection of backing tracks to sing to, then when you come into the studio you'll be treated like a professional, including your track being mixed and edited using industry standard software. For someone who loves singing, it's the perfect gift.'
Star Power
Ever since the first reality pop programme found its way onto our screens in the 90s, the idea of making it big as a singer has become hugely popular. But more competition means it's harder than ever to get a break. 24 Live owner Brett Jackson explained how friends and family can give an aspiring star a hand with the gift of a Spotlight Experience.
'Our Spotlight Experience is designed to give amateur singers an idea of what it takes to make it as a professional singer. Some people have never heard what their voice sounds like recorded and spending some time with us will help them understand how to sing for a recording.
The reason why the gift package we offer works so well is that it's suitable for people who are really serious about professional singing and those who just love belting out a tune and want to have some fun!'
Give the Gift of Song
Consumer journalist and commentator Sarah Mailin, who writes on the subject of shopping for several publications, recently listed Studio 24's musical gift voucher amongst the top ten gifts for young people in the north.
'Over the last decade there's been a decided shift in the kind of gifts teens and young adults are in to. Although smart phones and laptops are still essentials, the younger generation are becoming more aware of accumulating lots of throwaway items and experience gifts are a fantastic alternative.'
'If there's a potential pop star in your life they're bound to appreciate a gift like the Spotlight Experience because it's something really different and they'll have their own fab recording at the end of it!'