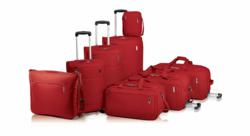 The Carlton Oasis is a lightweight yet very strong construction of bags and suitcases.
Kent (PRWEB UK) 10 March 2013
The Carlton Oasis brings with its range a variety of options on bags. Within its category there are expandable trolley cases, Holdalls with or without a trolley system, a Suiter with or without a trolley system and a Reporter Bag. The variety covers most aspects of traveling needs in bags by offering these items of choice. The Trolley cases come in three sizes that can be used as a set for longer holidays and then stored inside of each other when not in use; then, again, very handy to just pull out the size needed for maybe a shorter holidays.
Expandable suitcases are a benefit for any journey but usually its advantage is shown when packing to return home from holidays when a few bits extra have been purchased; this extra space is truly needed then. The Holdalls in this range have more of a professional look rather than a casual look as some holdalls may portray. The choice of having one of these on wheels or not with wheels, all depends on what they will be used for. The wheels would make it easier to be pulled along, easing the load of carrying the item on the shoulder or in hand, especially if other suitcases are being jollied along. The holdall without wheels may be more suited for grabbing to take on an outdoor event or sporting activities- the choices are endless for these great pieces. The Reporter Bag may just be the thing needed for carrying all those traveling documents that could be kept on your person.
"Having a 10% offer on this range now at Luggage Superstore, may be a good time to purchase and set aside. This will save the customer plenty of "shopping around" time and definitely on some money for when the holiday time approaches," says Nick Steadman, Managing Director of Luggage Superstore.
The Carlton Oasis is a lightweight yet very strong construction of bags and suitcases. One of the nice features of this range is the I-Trak®, the global lost & found ID service.
Luggagesuperstore established site is in West Kingsdown, Kent. Their aim is providing competitive prices of the highest quality luggage and top calibre Customer Service for online luggage shopping. Luggage Superstore recommends Carlton Luggage.
Trina Chee-a-kwai
Luggage Superstore
01474 854666
Email information