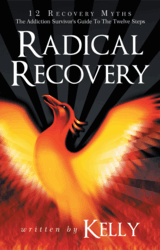 There is no future in addiction, only a regrettable past that keeps repeating itself, over and over again.
Boca Raton, FL (PRWEB) March 17, 2013
The book, RADICAL RECOVERY: Twelve Recovery Myths - The Addiction Survivor's Guide To The Twelve Steps has just been published by Balboa Press. It presents a refreshing view of A.A.'s Twelve Steps and sheds light on why, according the the HBO documentary REHAB, 93% of the 2 million Americans seeking treatment each year end up relapsing.
Kelly has more than 35 years of experience working in the field of addiction. In addition to his new book, Kelly has pioneered a Holistic brand of therapy being used by treatment centers in the U.S and England.
The goal of the therapy is simple, inspire, motivate, and empower alcoholics and addicts to become addiction survivors. Kelly's fresh approach to treating addiction integrates sound, music, vibro acoustic and motivational therapy. By combining these products which were developed by HeartMath, Simple Truths, and Nex Neruo, Kelly has set a noble goal. The goal is to help alcoholics and addicts transform their cravings for pills, alcohol, and drugs into cravings for courage, honesty, integrity, peace and humility.
Regarding the high relapse rate experienced today, Kelly's book makes the point that there is old A.A. and new A.A. Old A.A. worked well because it focused on practicing the spiritual principles in the Twelve Steps as a way of life. New A.A. seems to be dominated by the mantra "Meeting Makers Make It," and it's not working very well.
By combining the spiritual principals of A.A's Twelve Steps with Twenty-First Century technology, Kelly has provided the treatment industry with an innovative approach to treating addiction.
Kelly states, "We're not losing the war on drugs, our children are. They're dying every day, playing an old game, Russian Roulette. But weapons are new, pills, alcohol, and street drugs.
"Kelly's book. RADICAL RECOVERY: Twelve Recovery Myths - The Addiction Survivor's Guide to the Twelve Steps can be found at: http://www.amazon.com, Barnes and Noble, and Kelly's website, http://www.thelazarushouse.net
In 2011, The Treatment Center, in Lake Worth, Florida, began using Kelly's brand of Holistic Therapy. They are still using it today. In addition to helping patients being treated for addiction, they also found the therapy to be effective in treating anxiety, depression, chronic pain, sleep disorders, and post-traumatic stress. For the addiction industry, Kelly's Holistic brand of therapy may be a bright light and the end of a dark tunnel filled with failure, hopelessness and despair.
The goal of Kelly's book, Radical Recovery: Twelve Recovery Myths – The Addiction Survivor's Guide To The Twelve Steps, is to provide alcoholics and addicts with access to tools and resources that inspire, motivate, empower. Since repetition is the mother of learning, Kelly does a free daily email that alcoholics, addicts, and treatment centers may subscribe. The daily emails reinforce the ideas presented in Kelly's book. You can subscribe by sending Kelly an email, kelly(at)thelazarushouse(dot)net, visiting the webiste, http://www.thelazarushouse.net , or by phone: 561-603-1807