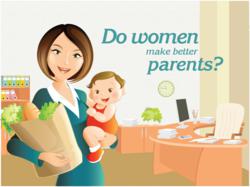 the researchers at Mapsofworld have attempted to take a look at the various popular debates and discussions about parenting in the recent years
San Jose, CA (PRWEB) March 08, 2013
MapsofWorld.com, the leading mapping and educational content portal, has launched its 60th edition of the FryDay Poll infographics featuring a Women's Day Special feature – Do Women Make Better Parents? With characteristic stress on data and survey results, the researchers at Mapsofworld have attempted to take a look at the various popular debates and discussions about parenting in the recent years. The infographic also takes a look at the top factors that working women look for at their workplaces, how supportive coworkers are, and the top reasons why women return to work after childbirth.
MapsofWorld has been developing infographics on a number of subjects including country profiles, culture and cuisine, current and historic events, international affairs, environmental and economic concerns, and other major debates. In this infographic the focus is on women and parenting. The study, however, also takes a look at stay-at-home fathers and attempts to compare single moms and single dads in the US. It also includes an excellent section on celebrity single mothers.
One of the top 1000 American websites, Mapsofworld.com is a mapping and content portal and an important research aid. The site has over 25 million map downloads to its credit and has drawn over 66 million visitors till date.
About the company:
MapsofWorld.com is a multilingual portal offering high-quality maps and information across geographies and platforms. With special focus on educational content, the portal has thematic as well as interactive maps on all major platforms: Web, iPhone, iPad, iPod, and Android. World Atlas and World Quiz are two highly successful educational apps have been downloaded. Other services offered are custom mapping, content digitization, and the online map store.
For more information, please contact:
social(at)mapsofworld(dot)com
MapXL Inc.
10 S. Third Street, Suite 310,
San Jose, CA 95113