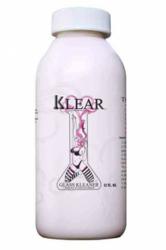 safely and effectively removes tar and resin from glass surfaces without leaving residue behind
(PRWEB) March 12, 2013
The rapidly expanding California-based business, Klear Solutions, announced the debut of their new product, Klear Glass Kleaner. This is a reusable cleaning product that safely and effectively removes tar and resin from glass surfaces without leaving residue behind.
Klear Solutions owner Trish Hamilton explains that the custom-formulated cleaner is a thick solution designed to absorb tar and resin. After an hour of soaking, the solution will rinse clean with warm water, leaving a fresh shine.
Similar products on the market are comprised of harsh chemicals, such as the leading competitor, whose active ingredient is also known as a common termite pesticide. Alternatively, Klear Glass Kleaner is exponentially more effective, allows multiple uses, consists of safer ingredients, and abides by all State and Federal Regulations.
To formulate the advanced tar and resin remover, Klear Solutions worked in conjunction with the top independent product development lab, Avomeen Analytical Services. The Avomeen scientists provided the chemical expertise to formulate Trish Hamilton's ambitious product.
According to Hamilton, "With the help and expertise of Avomeen, Klear Solutions is in the works to launch additional products within the next year."
To purchase Klear Glass Kleaner, available for sale in all 50 states, customers may find the product on Klear Solutions' website, or call 855-80KLEAR.
Avomeen Analytical Services is a custom product development and contract chemical analysis laboratory working with businesses and innovators to analyze and invent specialized consumer products including cleaners, cosmetics, paints, adhesives, and more. To speak with an Avomeen scientist, call toll-free to 800-930-5450.