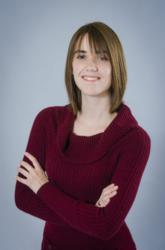 Strong math education should not be a rare privilege, but a civil right.
Bellevue, WA (PRWEB) March 08, 2013
Forest Ridge alumna Elizabeth "Elly" Schofield '09 will serve as emcee for today's first-ever TEDx event, TEDxForestRidgeSchool.
Schofield, a senior at Harvey Mudd, believes that strong math education, particularly early math education - should not be a rare privilege, but a civil right. Motivated by the feeling of privilege from the strong technical instruction and role models she's had throughout her education, Schofield has focused her attention on beginning a career in mathematics education reform in the US.
​
After giving a talk on this topic in September 2012 at TEDxClaremontColeges, Schofield has begun connecting with leaders in the field of educational technology. She looks forward to this summer, when she will begin to work with faculty at Harvey Mudd College to design massively open online courses for physics and computer science, targeted to high school students.
​
Now completing her final year as a math major at Harvey Mudd, Elizabeth has enjoyed her studies of both mathematics and visual art alongside numerous activities outside of her classes. Her closest friends call her a "leadership addict," referring to her frequent and varied roles in campus life including class president, student body vice president, orientation co-director, and this year, proctor for her dormitory.
​
Outside of these roles, Schofield delights in tutoring at the Writing Center, performing improvisational comedy, drawing, and singing, and makes a daily effort to make people laugh as much as possible.