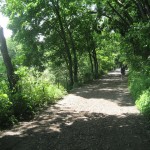 "The Putnam Trail is one of the open space glories of the New York Metropolitan region."
--Cy Adler
New York, NY (PRWEB) March 11, 2013
Metropolitan luminaries are voicing support for not cutting trees or paving the Putnam Trail in Van Cortlandt Park. Current plans call for widening and paving the trail at a cost of $2.41 million in taxpayer dollars.*
"Our compromise is a stone-dust surface with unchanged width in order to preserve as many trees as possible. Naturalists and birders have pointed out that disturbing the canopy would affect migratory birds and possibly wipe out a rare species of butterfly, the Silvery Checkerspot," said Michael Arnstein, founder and a coordinator for the grassroots campaign.
"Our research and conversations with highway engineers confirms that the stone-dust alternative is both accessible to everyone and is cost-effective to maintain over asphalt," he added.
This is what VIPs have said:
"The Putnam Trail is one of the open space glories of the New York Metropolitan region. We have spent many wonderful hours walking it in Manhattan, the Bronx, and Westchester. To deface and desecrate it with concrete would be an environmental disaster. The more natural a trail the better."
–Cy A. Adler, President, Shorewalkers Inc. http://www.shorewalkers.org
"I have been to Van Cortlandt Park as a runner and spectator over many years and feel strongly that the Putnam Trail should not be paved over. It will not benefit the users of the Park and this money can be used in countless meaningful ways."
–George Hirsch, Chairman of the Board, New York Road Runners, http://www.nyrr.org
"The Friends of the Old Croton Aqueduct have worked to keep the Aqueduct trail free of asphalt for many years. And we have succeeded. It is used by hikers, bikers, strollers, and even wheelchairs. As a group, we are against paving when a more natural surface is adequate. Not only do we value earth, we also appreciate the cooling effect of trees."
– Mavis Cain, President, Friends of the Old Croton Aqueduct Trail, http://www.aqueduct.org
"The Putnam Trail is a jewel. It's a mindless, destructive and wasteful act to pave the Putnam Trail. To spend hundreds of thousands of dollars or more to pave over this treasured parkland seems to be the antithesis of what a Parks Dept. should be doing."
–Eric Seiff, Chairman of the Board, Friends of Van Cortlandt Park, http://www.vancortlandt.org
"As a cyclist, I originally thought it would be a good idea to pave the trail and have gravel on the sides of the pavement for the runners, so all could have an equal share; however, with the understanding that trees would be cut down [widening of the trail], that goes against my values as an environmentalist and a former teacher of environmental science. I am all for in favor for leaving it is as it is now in the wild. I don't want to cut down any trees at all if it's avoidable."
–Denis Burns, Secretary of the USI Cycling Club; Past President and current Board member of Friends of Van Cortlandt Park
"The race walkers of the Greater New York strongly oppose any paving of the Putnam Trail and would like to see funds go towards more free programs in the park, therefore helping to improve the quality of life in the Bronx."
–Lon Wilson, President, New York Walkers Club/ Parks Greeter, http://www.nywalkersclub.org
"Paving the trail greatly increases injuries–runners, walkers, and even dogs all thrive when they exercise on natural dirt surfaces. In any case, we desperately need to preserve our natural surroundings in an over-populated world."
–Kathrine Switzer, notable author, television commentator, marathon runner
Van Cortlandt Park is the city's fourth largest and offers many recreational outlets including riding stables, fishing lake, stadium, pools, playing fields, ball courts, skating rink, historical buildings, and more.