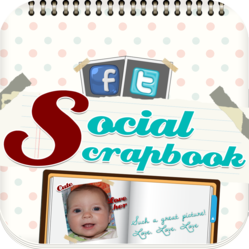 (PRWEB) March 11, 2013
Snack Development, LLC, today announced the launch of Social Scrapbook, a digital scrapbook application for the iPad and iPad mini iOS devices. Social Scrapbook is designed to help scrapbook enthusiasts leverage their Facebook and Twitter activities to more easily create and share artistic, professional-looking scrapbooks.
Social Scrapbook allows users to select photos stored on their iOS devices in addition to pulling photos, statuses and comments from Facebook and Twitter to create custom scrapbooks. The capability to build a scrapbook utilizing previously published social content saves the scrapbooker time in collecting content and enhances the overall creative component of their designs.
The initial release allows users to choose from a variety of templates designed to create baby scrapbook pages that can be shared digitally or printed locally. Future version updates are planned to offer additional themes and templates, the ability to print-professionally, and share options with Facebook and Instagram™.
"Social Scrapbook shares many of the same features of other digital scrapbooking apps, but what makes this app unique is the ability to pull in content from the users' Facebook and Twitter accounts. People are busy, especially moms to little ones, and more frequently they're keeping friends and family connected to their children's special moments and milestones through social channels. Given the amount of content they're publishing on Facebook and Twitter, it's a huge benefit to be able to easily pull all of that information into a digital scrapbook," stated Kate Tremblay, Owner and Creative Developer, Snack Development, LLC.
The Social Scrapbook app is available in both a lite and full version. Social Scrapbook Lite gives users access to create two pages, while Social Scrapbook Pro gives subscribers access to over 18 professionally designed pages and a comprehensive menu of design elements.
For more information about Social Scrapbook please visit http://www.socialscrapbookapp.com and the Apple iTunes Store at https://itunes.apple.com/us/app/social-scrapbook-pro/id608931525?ls=1&mt=8. For updates and version releases, follow @SocialScrapb00k on Twitter and connect on Facebook at https://www.facebook.com/SocialScrapbook.