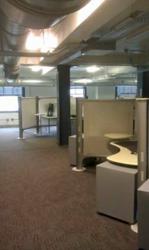 With an emphasis on high ceilings, exposed ductwork, lighting and color pallet, the design of The LOFTS has paid off in that the environment is both clean and current and is not simply limited to a suite here and there on a floor in an office building
Columbus, Ohio (PRWEB) March 14, 2013
E.V. Bishoff Company has pioneered the concept of the Central Business District LOFTS in Columbus, Cleveland and Pittsburgh. Throughout most American cities of any size, a warehouse district existed that was usually located on the fringe of the downtown. Over the years, it is in those Warehouse Districts that the idea of loft style office conversions came to fruition.
Loft style offices initially had appeal with those in the artistic fields, and from there quickly came to be appreciated, and even preferred, by business owners in all industries. Central Business District office buildings typically have not accommodated the loft style offices, instead favoring a more "refined "ceiling-tiled environment. E.V. Bishoff Company realized that this preference in office environment was not a fad, but rather a trend, a change in how some people wish to live in their work environment.
With an emphasis on high ceilings, exposed ductwork, lighting and color pallet, the design of The LOFTS has paid off in that the environment is both clean and current and is not simply limited to a suite here and there on a floor in an office building. Instead, E. V. Bishoff Company has taken entire floors of its high-rise office buildings and installed The LOFTS on the entire floor creating a sense of arrival from the moment that you get off the elevator and continuing until you enter your suite that you are in a very special place. A place that is very different then what you may have expected to see in a historic high rise. "It is everything, but the feeling that you are in your father's office. The response has been magnificent," said David Bishoff, President of E.V. Bishoff Company. "There will always be those business owners and those industries that lend themselves to traditional office space. However, it is clear to us that there's room for a cleaner and more current Central Business District office space such as The LOFTS."
The E.V. Bishoff Company, as a Portfolio Company that purchases, maintains and develops its properties with an eye towards the next generation, viewed this development as being the logical next step in the continual development of its office portfolio. Its continual recognition of how office space is, and has, evolved along with the services that should be provided to its clients that call its portfolio of high rise office buildings home, are some of the hallmarks of the E. V. Bishoff Company.
"Working through the complexities from a design and renovation standpoint to create The LOFTS is not for the faint-of-heart, nor is it for a property owner that doesn't have a long ownership time horizon in mind," said David Bishoff.
For tours and assistance, please contact E.V. Bishoff Company at (412) 471-6868.
The LOFTS are available in:
Pittsburgh- Diamond Building and Investment Building
Columbus- Law & Finance Building and Commerce Building
Cleveland- Superior Building and City Club Building
Founded in Columbus, Ohio in 1966 as a commercial real estate development company, the E.V. Bishoff Company (EVBCO) is a firmly established leader in redevelopment of historic central business district office buildings in Cleveland, Columbus and Pittsburgh. The family-owned company known for stellar, responsive service to its tenants boasts a nearly 100 percent retention rate of all of its properties. A rarity in commercial real estate today, EVBCO is the owner-operator. To learn more about EVBCO, visit http://www.evbco.com.