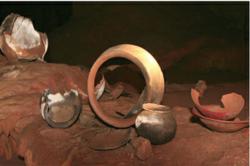 The MOU also covers the illegal trafficking of Belize's African, Spanish, British and other cultural treasures.
(PRWEB) March 08, 2013
The recent signing of a memorandum of understanding between the United States and Belize is a major step forward in protecting the little Caribbean country's cultural heritage, a spokesman for the Belize Natural History Centre at Chaa Creek said today.
Brion Young said that the memorandum, announced 5 march 2013 by the US Department of State, demonstrates a commitment on the part of the two countries to end the looting of Maya temples and archaeological sites in Belize and halt the illegal trade of Maya artefacts.
The MOU also covers the illegal trafficking of Belize's African, Spanish, British and other cultural treasures.
"Over the years we have lost so much of our heritage to looters, and we salute the United States in working with the Government of Belize to put a stop to this. Just as the original Declaration of Independence and other historical artefacts are important to US citizens, we value the icons of our country's history and culture," Mr Young said.
The memorandum, which is effective from the end of February 2013 for a period of five years, is now covered by Article 9 of the 1970 UNESCO Convention on the Means of Prohibiting and Preventing the Illicit Import, Export and Transfer of Ownership of Cultural Property. It formalises and strengthens the efforts of both countries to identify and prosecute people trading in artefacts of cultural and ethnographical importance.
"At one time you could walk into bars in San Ignacio and other towns and be offered ancient Maya artefacts for sale, while at the same time private collectors, museums and even people representing universities were paying large sums for original Maya artefacts. After Belizean Independence in 1981 serious attempts were made to stop this, but we didn't have the resources to effectively go after thee poachers of our history.
"The situation has improved immensely, and this recent memorandum gives our joint legislation more teeth. Speaking for the Natural History centre, we couldn't welcome it more," Mr Young said.
The Belize Natural History Centre is was founded and is maintained by The Lodge at Chaa Creek to showcase Belize's natural and cultural heritage while educating Belizeans and visitors with displays about the history and ecology of Belize. Chaa Creek has for years sponsored research and opens its 365 acre private rainforest reserve with over 70 recorded Maya archaeological sites to legitimate study, and has worked with overseas universities, The Foundation for Wildlife Conservation's Birds Without Borders program and numerous other research project, Mr Young said.
"As Belize's first true eco resort, Chaa Creek has been committed to protecting our environment and history for over 30 years. Not only are we located in the artefact-rich heartland of the ancient Maya civilisation, we are also surrounded by one of the most pristine rainforest environments on earth. It's very encouraging to see the United States join us in our efforts to safeguard our heritage, and shows once again the strong ties between our two countries," Mr Young said.