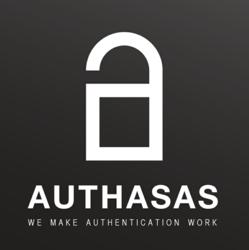 With Authasas strong authentication framework; flexible, practical and secure cloud based solutions are a reality
(PRWEB) March 12, 2013
Authasas, developer of high end authentication software. Providing multi-purpose framework software that enables their customers to improve their information security and adhere to compliancy requirements.
"We are extremely proud and thrilled to have Mr. Bergman become part of the Authasas family. These are exciting times for us and it is of great value that we can learn from the experience of someone like Mr. Bergman. His knowledge and expertise will be an important asset helping us evolve the company to become the global authority in the field of strong authentication. The market is booming and we are convinced that Christer's experience will help us a great deal", says Authasas CEO, Reinier van der Drift.
Mr. Bergman knows the market well and has been following the company for some time now. He had been impressed by their professionalism, business proposition and the way Authasas has managed to become a respected and prominent player in the authentication and security sector.
"easy, secure and flexible access to websites and applications also in the cloud, is what everybody wants. Until now access to most is based on passwords (not very secure) or a single authentication method (not very flexible). With Authasas strong authentication framework; flexible, practical and secure cloud based solutions are a reality", says Mr. Bergman
Mr. Bergman is the founder of Novexus, LLC a business development consultancy company based in Vienna, Virginia USA. Since 2000, Mr. Bergman has been a well-known business leader in the Security and Biometrics industry and has been involved in numerous speaking engagements before industry groups as well as the Congress. He is currently holds three Board of Directors / Supervisory Board positions. During more than 25 years, Mr. Bergman have held numerous executive positions in the high tech industries in the US and Europe and earned a Master of Science Degree from the Lund Institute of Technology in Sweden, as well as from University of California, Berkeley.
About Authasas
Authasas is a software solution provider, dedicated to delivering multi-purpose and strong authentication software for today's challenging global business environment. We have in-depth understanding of compliance and information security requirements, and have created the best futureproof solution to help our customers and users safeguard their information access and business.
Founded by a team of entrepreneurs that have decades of experience, our mission is to develop and build advanced authentication products that are secure, usable and easy to manage. Authasas has certified partnerships with Microsoft, NetIQ, Novell, CA and Oracle. Authasas has certified strong authentication integration with HID, Lumidigm, Apple/Authentec to name a few. We sell our products worldwide through an authorized group of distributors and partners.