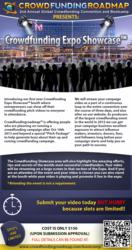 We will stream your campaign video as a part of a continuous loop to the entire convention over the course of three days, and also after on our website.
Las Vegas, NV (PRWEB) March 08, 2013
The 2nd Annual Global Crowdfunding Convention and Bootcamp will offer a very special opportunity to Crowdfunders & Entrepreneurs this year. The event will host the first ever Crowdfunding Expo Showcase™ booth where entrepreneurs can show off their crowdfunding pitch videos to everyone in attendance by "crowdsharing a booth". Crowdfundingroadmap™ is offering people who are planning on running a crowdfunding campaign after Oct 16th 2013 and beyond a special "Pitch Package" to help generate buzz about their up and coming crowdfunding campaign.
"We will stream your campaign video as a part of a continuous loop to the entire convention over the course of three days, and also after on our website. As producers of the largest crowdfunding event in the world in 2012 we can get your campaign business excellent exposure to attract influence makers, investors, donors, fans, and followers long before your campaign starts and help you on your path to success," stated Ruth Hedges, CEO of Funding Roadmap and the creator of the conference.
The Crowdfunding Showcase area will also highlight the amazing efforts, tips and secrets of the worlds most successful crowdfunders. Presenters' videos will be streaming on a large screen in that section of the Expo. And if the presenter is an attendee of the event and the video is chosen, they can also choose to stand at the booth while the video is playing and promote it live in the expo.
This special package is being offered to a limited number of crowdfunders for just $150. Attendance is not required but for those who do attend the $150 will also be deducted from your ticket price! Details for the Crowdfunding Expo Showcase™ can be found HERE.
The 2nd Annual Global Crowdfunding Convention and Bootcamp, the preeminent international crowdfunding event, will be held on October 14-16 at the spectacular M Resort and SPA in Las Vegas, NV. Ticketing and information can be found HERE.
Because conventional forms of financing, such as venture capital and small business loans, are no longer viable options for earlier stage companies, many have been desperately seeking alternative capital raising methods, such as Crowdfunding. Crowdfunding has already matured into nearly a 3-billion dollar industry, and with the implementation of the Jobs Act, it is forecasted to grow exponentially as more and more entrepreneurs, investors and members of the financial community propagate the marketplace. Comprised of the largest gathering of industry professionals, this year's convention is designed to provide participants with an unparalleled informational and networking experience.
This is the must-attend event for entrepreneurs and small business owners, investors, crowdfunding professionals and enthusiasts, funding portals, investment bankers, financial advisers, venture capitalist, angel investors, incubators, business coaches, mentors, secondary stock specialists, equity analysts, journalists as well as tax, legal and regulatory experts. Attendees can expect to be immersed in the best in education that will include personalized hands-on access to renowned industry leaders.
The 3-day event will also feature a one of a kind "Funding Portal Pavilion"™ as well as a new "Crowdfunding Expo Showcase" and "Crowdfunding Expo Marketplace" - where the best in the industry come together to exhibit game-changing platforms, products and new funding solutions. Also being introduced is a diverse series of workshops for Entrepreneurs, Investors, Financial Advisers, Funding Portals, Broker Dealers, The International Community as well as Legal and Tax Professionals. All workshops will be spearheaded by an impressive list of prominent speakers from around the world.
ABOUT CROWDFUNDINGROADMAP
The Crowdfundingroadmap Hatchery is a new ecosystem of crowd investing best practices for Issuers (entrepreneurs) and Intermediary (registered funding portals and Broker/Dealers) to build a pipeline of quality dealflow resulting in a faster crowdfund investing process for the entire industry.The Hatchery is a private network built using Web 3.0 Fundingroadmap technology, which offers a simple and convenient way for entrepreneurs to list their investment opportunities with an Intermediary (registered Funding Portal or Broker/Dealer), for compliant deal flow. The Hatchery offers a unique, integrated cloud based solution for transparency and due diligence disclosure requirements and will have a transformational effect on the Crowdfunding industry as it builds end-to-end business solutions in conjunction with the Fundingroadmap reporting system. The reality is that Startup and emerging businesses are desperate for new capital and the Hatchery helps in the capital formation life cycle by providing the resources to becoming compliant. Converting to the Crowdfundingroadmap system will dramatically change the economic landscape, help stimulate sound economic growth and get much needed capital into the hands of more compliant and successful companies. Additional information can be found at http://crowdfundingroadmap.com
This information is being distributed for the client, by Philip Cardwell at Universal Media Consultants. From top magazines to leading TV stations, UMC has been very effective at distilling client's messages in the major national media. The aim is simple. To multiply message impact and client exposure in highly targeted markets, quickly, imaginatively, and cost-effectively. For more information visit: http://www.universal-media-consultants.com