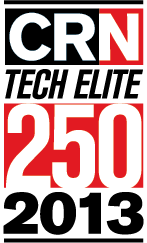 We are honored by our inclusion in CRN's 2013 Elite 250. This award speaks to the investments we have made into our organization and the talent we have on our engineering team.
Des Moines, Iowa (PRWEB) March 10, 2013
IP Pathways today announced it has been named to CRN's third annual list of the Tech Elite 250. Companies on the 2013 Tech Elite 250 list represent an elite group of IT solution providers that have invested in the training and education needed to earn the most advanced technical certifications in the IT Channel for data center or cloud.
In compiling the list, CRN editors worked with the UBM Tech Channel research group and a team of outside experts to define the most customer-beneficial technical certifications in the IT channel. These technical certifications have enabled solution providers to deliver the most premium products, service and support to their North American customers.
IP Pathways has built an impressive team of data center infrastructure engineers. The company has deep expertise in virtualization, storage, core network, unified computing and Microsoft technologies and specializes in NetApp, VMware, Cisco, Aruba, Imprivata and Microsoft solutions. Joe Shields, President of IP Pathways stated, "We are honored by our inclusion in CRN's 2013 Elite 250. This award speaks to the investments we have made into our organization and the talent we have on our engineering team. When we founded the company in 2007, we set out to be the Midwest leader in data center infrastructure expertise and our inclusion on the prestigious list really says we are on the right track."
"The 2013 Tech Elite 250 list recognizes an exclusive group of solution providers that have invested in training and technical know-how to help their customers understand the benefits of some of the most sophisticated technology deployments in the market – and have shown a dedication to helping customers innovate while reducing costs," said Kelley Damore, Senior Vice President, Editorial Director at UBM Tech Channel. "By identifying and adapting to the skills and training needed to best serve today's customers, members of the Tech Elite 250 have proven their commitment to delivering the products and services that today's customers value most."
"This is a great accomplishment for our engineering team and company as a whole. At IP Pathways, we are continually learning, growing and expanding our expertise. We are fortunate to have such a talented and deep group of engineers. I'm very proud of our team and would like to thank them and CRN," said Sean Lair, Vice President of Engineering at IP Pathways. "When Joe and I founded the company in 2007, we knew we wanted to create something different and special. We believe that we have a level of engineering expertise and depth that is unmatched. We are very proud of our team and I personally feel very fortunate to be associated with such a talented group of professionals," added IP Pathways' Co-Founder, Wade Brower.
To view a sample list of winners visit http://www.CRN.com or view the February issue of the print magazine. View the full list in the CRN Tech News app, available for the iPad at http://go.crn.com/TE250-13 and for Windows 8 devices at http://go.crn.com/CRNWin8.
About IP Pathways
IP Pathways, Leading the Data Center Revolution®, provides solutions that reduce complexity within your IT infrastructures by reducing data center footprints, consolidating data storage and management, simplifying virtualization and optimizing application performance & security. The company's goal is to have happy customers, happy manufacturing partners and happy employees. IP Pathways' strategy is to customize internal and hybrid cloud solutions to allow customers to leverage their existing IT infrastructure investments while increasing utilization of human capital & equipment.
IP Pathways lives in the data center and specializes in the following areas of the IT environment: Data Storage, Server & Desktop Virtualization, Core Networking, Servers & Unified Computing Systems and Application Performance & Security.
IP Pathways represents leading Tier 1 manufacturers of IT hardware and software such as VMware, NetApp and Cisco and focuses on FlexPod™ for VMware cloud infrastructures and is a leading expert in VMware server and desktop virtualization solutions.
These are the core values that IP Pathways lives each day:
1. Do Whatever It Takes For The Customer
2. Be An Engineering Driven Organization
3. Associate With & Represent Only Best-In-Breed Technology Hardware & Software Solutions
4. Be A Leader In Technology Thought and Innovation
5. Become The Technical Expert In Whatever We Do
6. Embrace Face-to-Face Communication With Our Customers, Co-Workers and Vendors
7. Be Creative and Open-Minded
8. Be Passionate and Determined
9. Get In Over Your Head and Love Every Minute Of It
10. Build A Positive Team and Family Spirit
For more information call 515.422.9300 or visit http://www.ippathways.com.
About UBM Tech Channel
UBM Tech Channel is the premier provider of IT channel-focused events, media, research, consulting, and sales and marketing services. With more than 30 years of experience and engagement, UBM Tech Channel has the unmatched channel expertise to execute integrated solutions for technology executives, managing partner recruitment, enablement and go-to-market strategy in order to accelerate technology sales. UBM Tech Channel is a UBM company. To learn more about UBM Tech Channel, visit us at http://www.ubmchannel.com. Follow us on Twitter at http://twitter.com/ubmtechchannel.
UBM plc (http://www.ubm.com)
UBM plc is a leading global business media company. We inform markets and bring the world's buyers and sellers together at events, online, in print and provide them with the information they need to do business successfully. We focus on serving professional commercial communities, from doctors to game developers, from journalists to jewelry traders, from farmers to pharmacists around the world. Our 6,000 staff in more than 30 countries are organized into specialist teams that serve these communities, helping them to do business and their markets to work effectively and efficiently.
About IVA
Imagine Virtually Anything is a program combing the strengths of Cisco, NetApp and VMware to offer virtualized dynamic data centers. This shared virtualized data vision is built on a flexible, cost-effective, high-performance framework that provides high-availability, secure multi-tenancy and simplified management with integrated support. To learn more about the Cisco, NetApp, VMware alliance visit, http://www.imaginevirtuallyanything.com/us.