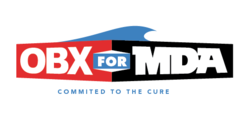 We are blessed to be involved in such a meaningful event within our community. These kids deserve the world and Kitty Dunes Rentals is honored to be a part of this incredible cause
KItty Hawk, NC (PRWEB) March 14, 2013
Kitty Dunes Rentals is proud to announce its sponsorship with the OBX for MDA Hit the Bucket campaign and the OBX for MDA Poker Run which are taking place during the 2013 Outer Banks Bike Week. Kitty Dunes Rentals will also be giving away a 7-day-stay in an Outer Banks vacation home to a lucky winner.
The Hit the Bucket campaign consists of a three day fundraising event in the Outer Banks on April 22nd-24th. Marketing director of Kitty Dunes Rentals and OBX for MDA co-founder, Buzz Toll, will be living on top of the 7-Eleven in Kitty Hawk for 72 hours asking for donations. The local fire department and Max Radio of the Carolina's Beach 104.1 will also be hosting events to raise donations. Along with Kitty Dunes Rentals, Budweiser, Miller, Pepsi and 7-Eleven have donated giveaways for those who donate.
The OBX for MDA Poker Run will take place on April 25th, beginning with registration from 9 am-11am at Harbinger Harley. At registration, attendees will be asked to pay the $15 event fee which benefits MDA and will be given the route and map for the Poker Run. The best 5-card hand will win a 7-day-stay in a Kitty Dunes Rentals Outer Banks Vacation Home. The lowest 5-card hand will win a surprise gift package. Yee-Haw the Mechanical bull will be traveling from New York for the event and will be at the finale at 7 Eleven in Kitty Hawk, 3pmest.
"We are blessed to be involved in such a meaningful event within our community. These kids deserve the world and Kitty Dunes Rentals is honored to be a part of this incredible cause," said Buzz Toll, Marketing Director of Kitty Dunes Rentals.
MDA is the nonprofit health agency dedicated to finding treatments and cures for muscular dystrophy, ALS and related diseases by funding worldwide research. The Association also provides comprehensive health care and support services, advocacy and education. In addition to funding more than 250 research projects worldwide, MDA maintains a national network of 200 medical clinics; facilitates hundreds of support groups for families affected by neuromuscular diseases; and provides local summer camp opportunities for thousands of youngsters living with progressive muscle diseases.
About Kitty Dunes Rentals:
Kitty Dunes is one of the finest, most well-respected rental companies on the Outer Banks. Offering vacation rental properties, property management and real estate sales, Kitty Dunes Rentals continue to uphold the Outer Banks standards of hospitality and welcome. Kitty Dunes Rentals operates office locations in both Corolla and Kitty Hawk. Specializing in property management and vacation rental property reservations; Kitty Dunes Rentals is dedicated to upholding family values and the hospitality standards of the Outer Banks. Spanning Carova to South Nags Head and incorporating Corolla, Duck, Kitty Hawk, Kill Devil Hills and Nags Head, Kitty Dunes Rentals offers a variety of quality rental properties. To learn more about Kitty Dunes Rentals, visit http://www.kittydunes.com/.