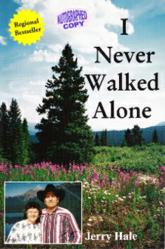 Tales of hard work, blood and tears, all woven together provide an entertaining, yet informative story of my Father with God as his partner
Alberta, Canada (PRWEB) March 08, 2013
Jerry Hale, author, lifetime rancher, father, and loving husband, announced today the republished release of his fascinating autobiography, "I Never Walked Alone."
"I Never Walked Alone" gives a charming look into the life of Jerry Hale. It is a heart-wrenching tale of hard work, family, and ranch life on the picturesque Canadian countryside. Jerry enchants readers as he retells his times of merriment from boyhood adventures on his family's Texas farm to his move to the Peace River country of Northern Alberta, and his adult life with wife, Rose and their five children. In this riveting work of art, Jerry Hale crafts a compelling account of his lifelong journey with God.
The book is heavily inspired by Jerry's unwavering faith. Throughout "I Never Walked Alone" Jerry conveys the positive impact his lifelong relationship with God has had every step of the way. The rerelease includes new excerpts and updates to the original text. In the new edition Jerry enthralls readers with his insights and truly invites the outside world to relive his journey with him.
Jerry's son, Manny Hale confirms the new edition is most complete account of Jerry's life we have seen thus far, "As you read this book you will know what it is like to carve a farm and ranch out of bush land, raise a family of five children and then ultimate lose [your] home to the Bank… Tales of hard work, blood and tears, all woven together provide an entertaining, yet informative story of my Father with God as his partner."
"I Never Walked Alone" has been a best seller in the Alberta region since its original release in 1997 and is now available in paperback on Amazon and Barnes and Noble.
About Jerry Hale:
Jerry Hale was born in 1940 on a small farm in Van Alstyne, Texas where he lived well into his teenage years. In 1957 Jerry left Texas and relocated to the homesteading area of Worsley, Alberta with his family. While in Canada, Jerry eventually met his wife of more than 50 years, Rose. Jerry and Rose have five children, 16 grandchildren and nine great grandchildren. They now reside in beautiful Cleardale, ,Alberta, Canada. Jerry and Rose host an annual Christian music festival, The Gospel Jamboree, which is celebrating its 10th year. Jerry and Rose have written and published four books including: I Never Walked Alone and The Adventures of Muskwa. For more information please visit http://www.thegospelroad.ca. To purchase "I Never Walked Alone" please visit http://www.amazon.com/Never-Walked-Alone-Jerry-Hale/dp/1550564943 .