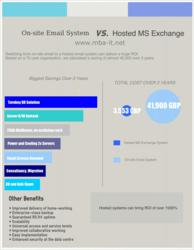 For SMB's cost isn't the only driver for IT purchases, although it plays a massive part in decision making. Performance and efficiency are also incredibly important. A hosted email system provides enterprise-class technology at a fraction of the cost.
London, Greater London (PRWEB UK) 10 March 2013
MBA IT recently demonstrated that a 70 user organisation could potentially save over £40,000 by switching to a hosted email system.
If you find this hard to believe, consider the areas where savings are made. Each user gets a 25Gb mailbox, which negates the need for additional email archiving. It also makes historical searches quicker and easier, maintaining productivity levels. Anti-virus and anti-spam is included as standard at no additional cost. Many businesses replace server hardware on a three year cycle. A hosted email system is run on enterprise class server technology which is continually refreshed in the data centre. Licenses and upgrades are included in the hosting costs and are automatic and hassle free. In the event of a disaster, a hosted system is available immediately, from anywhere and has been backed up almost continuously, thus reducing the risk of data loss.
Gary Miller, Director of MBA IT believes it's an easy decision for many businesses "For SMB's a hosted email system is a fantastic way of accessing enterprise level products that would normally be too costly. When we calculate the actual cost savings that a business could make and couple this with the additional benefits that are hard to quantify, it's easy to see why hosted email is such a popular service. For businesses with geographically spread users, both nationally and internationally, a consistent service is invaluable. For businesses which add or remove users regularly, the on-demand nature of a hosted solution means that user accounts can be switched on and off easily. Hosted email systems offer excellent SLA's too, which many in-house systems are unable to compete with."
The move to a hosted email system could free up valuable IT resource which could be better deployed in managing critical applications, dealing with the data explosion or implementing an increasingly important Bring Your Own Device strategy. All of these appear as top concerns for IT departments in the UK.
About MBA IT
MBA IT works with businesses of all sizes across all sectors, providing outsourced IT services from its data centre in Central London. The 24x7 IT Support Desk provides a range of services from telephone to on-site support, as required by the customer.