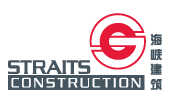 Straits Construction selects CMiC's full solution suite to integrate its departments.
Toronto, Ontario (PRWEB) March 14, 2013
CMiC, a leader in creating advanced, technologically open enterprise-wide software solutions for construction and capital project management, announced today that Straits Construction Singapore Pte Ltd, a leading building contractor based and operating at Singapore, will implement CMiC's full solution suite within their enterprise to integrate their Finance, Contracts, Projects, Cost Control and Human Resource departments.
"The integration of CMiC software will enable inter-department communication to become more effective and create more transparency in the integrated workflow that links departments together," says Sri Ganesh Senior Project Manager at Straits Construction Singapore Pte Ltd. With the ERP system in place electronic documents can be sent, viewed and decisions can be made in real-time with information being sent to all relevant parties. This is a considerable improvement in the communication process as traditional methods consisted of manually handling documents.
It was important for Straits Construction Singapore Pte Ltd to work with a solution provider who was knowledgeable about the business processes of the construction industry. In their search, they identified CMiC as the ideal working partner given their track record in North America and proven software solution. "CMiC's software offered great potential for future business expansion and growth with our own affiliated companies and this was a key consideration," says Sri Ganesh.
From CMiC's perspective, "We are excited to welcome Straits Construction Singapore Pte Ltd as our first major account in Singapore, further building CMiC's established presence with Business Partner Crown Systems. Both CMiC and Crown Systems look forward to working with and supporting the team at Straits," says Damon Stevenson Director of International Business Development at CMiC.
About Straits Construction Singapore Pte Ltd
Straits Construction has an impressive track record of excellence in all segments of the construction service. As a leader in the industry, they have earned the reputation for providing high quality services in building construction in both the public and private sectors.
About CMiC
CMiC (cmicglobal.com) is the leading provider of complete, integrated and advanced enterprise level software solutions for construction and capital projects. For nearly four decades, CMiC has partnered with the largest and most technologically progressive AEC firms and capital project owners in North America, gaining detailed insight into the unique business needs of the industry. From that experience, CMiC has created CMiC Open Enterprise v10, the most advanced construction and capital project software solution ever developed. Combining an incredibly flexible technological infrastructure with a philosophy of total integration, CMiC Open Enterprise v10 lowers costs, improves productivity and increases interoperability.