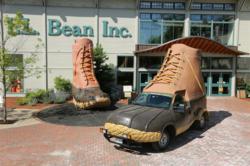 L.L.Bean has performed very well in a continuing volatile retail environment - with economic uncertainty, political distractions, shaky consumer confidence.
Freeport, Maine (PRWEB) March 08, 2013
L.L.Bean announced today a positive close to its 2012 fiscal year. On the basis of the business performance for 2012, the company announced its intent to pay 7.5% performance bonuses to approximately 5,000 full and part-time employees.
"It's a well-deserved bonus," said Leon Gorman, L.L.Bean's Chairman of the Board. "On behalf of the Board of Directors, I congratulate L.L.Bean employees on their outstanding performance this year. It is especially meaningful that we are closing the 100th anniversary year on such a positive note. "
For the 2012 fiscal year ending February 23, 2013, L.L.Bean reported annual revenues of
$1.521 billion.
"L.L.Bean has performed very well in a continuing volatile retail environment - with economic uncertainty, political distractions and shaky consumer confidence. We ended the year with a modest gain in net sales over the prior year, but significant improvement in productivity," said Chris McCormick, L.L.Bean's President and CEO. "We made substantial long-term productivity investments in the business beginning in 2010 – from web enhancements to product assortment to free shipping– and we are now reaping the benefits. Our investments in the website have doubled starting in 2010, as our sales continue to shift to online and mobile. The free shipping that we implemented in 2011, while a risk, has been well received by our customers and is paying off. Focus on product assortment has led to greater productivity and bottom line contributions; Men's and Women's Apparel and Sporting Goods had their best sales in company history and we have seen especially healthy improvements in our Hunting and Fishing categories. Our Maine-made L.L.Bean Boot production continues at an all-time high, demonstrating Bean's first product is as relevant today as it was 100 years ago."
2012 Business Highlights:
--2012 company revenues $1.521 billion
--Men's and Women's Apparel and Sporting Goods had their best sales in company history; strong growth in our Hunting and Fishing categories.
--L.L.Bean Boot production continues at an all-time high
--J.D. Power and Associates ranked llbean.com "Highest Customer Satisfaction Among Online Retailers"*
--Harris Poll's Shopper Satisfaction Study of Online Retailers rated L.L.Bean top among clothing and apparel companies
--Top ratings in ForeSee's E-Retail Holiday Satisfaction Survey
--$1.52 million in corporate contributions to charitable programs in 2012 (in addition to the $2.5 million in 100th anniversary donations)
--Retail: One new store in Danbury, CT, built to U.S. Green Building Council's LEED standards; one new Outlet store in North Hampton, N. H.
--International: One new store in Japan, for a total of 20; 5 new stores in China, bringing the total to 62; in Canada, we saw the highest direct business demand year on record
--On peak delivery day (Dec. 13, 2012) we shipped 180,458 customer orders
--C. Everett Koop National Health Award for 2012 – for company commitment to employee health and wellness
--Record-breaking United Way campaign raised $1.563 million in corporate and employee donations for the 5 Maine United Way offices
--L.L.Bean met its goal of 20% reduction of Greenhouse Gas reduction from base year 2006
--Business performance this year enabled L.L.Bean to make an additional contribution to its already very well-funded pension plan
Celebrating 100 Years
Here are just a few highlights of the year-long anniversary celebration:
--Million Moment Mission - an effort to encourage customers to share a "million outdoor moments" with us. Each moment shared was matched with a $1 contribution to the National Park Foundation – for a total of $1 million - for programs specifically aimed at engaging more young people in the national parks
--Healthy Hometowns—L.L.Bean donated $1 million to the Maine Winter Sports Center's Healthy Hometowns initiative to create statewide, year round community based programs for outdoor recreation for kids and families
--Freeport Fields and Trails - On a local level, the company committed $500,000 to the Freeport Fields and Trails project to provide more access to outdoor recreation opportunities for local youth and families
--Hometown Celebration—A 4 day celebration at the birthplace of the company – Freeport, Maine. More than 40,000 visitors enjoyed the celebration that included a Main Street parade; free Outdoor Discovery Schools Classes; free concerts; a street festival with crafts, activities and food booths that raised money for local nonprofits; and culminated with the most spectacular fireworks display ever shown in Maine
--Get Out(fitted) Gear Giveaway (GOGG) — L.L.Bean gave away up to $500 in gear and Outdoor Discovery Schools experiences for every day of 2012.
--Bootmobile— The 13-foot high and 20-foot long larger than life 4-wheeled version of the iconic Bean Boot, the Bootmobile traveled the country surprising and delighting customers with programs and activities
--Fenway Park— In celebration of the L.L.Bean and Fenway Park 100th anniversaries, L.L.Bean created a new logoed 100th Anniversary rain delay tarp, and participated in Maine Day activities, giveaways, and promotions. Last year's rain tarp was upcycled into 1,912 commemorative limited edition Fenway totes -made by L.L.Bean at Brunswick, Maine – which sold out in 7 minutes
--L.L.Bean Visa Centennial Sweepstakes - The 100th anniversary culminated in the awarding of the $1 million Grand Prize
About L.L.Bean
L.L.Bean, Inc. is a leading multichannel merchant of quality outdoor gear and apparel. Founded in 1912 by Leon Leonwood Bean, the company began as a one-room operation selling a single product, the Maine Hunting Shoe. While its business has grown over the years, L.L.Bean still upholds the values of its founder, including his dedication to quality, customer service and a love of the outdoors. L.L.Bean products are rigorously tested, guaranteed to last and always shipped free. In the past five years, L.L.Bean has donated over $6 million toward conservation and land stewardship. The 220,000 sq. ft. L.L.Bean retail store campus in Freeport, ME, is open 24 hours a day, 365 days a year and welcomes more than 3 million visitors every year. L.L.Bean can be found worldwide at http://www.llbean.com, Facebook, Twitter, YouTube, Pinterest, Google+ and Instagram.
A privately held company, L.L.Bean does not publicly disclose financials.
###

L.L.Bean received the highest numerical score in the proprietary J.D. Power and Associates 2012 Online Apparel Retailer Satisfaction ReportSM. Study based on 2,399 responses measuring 12 online apparel retailers and measures the opinions of consumers who made an online purchase in the past 12 months. Proprietary study results are based on experiences and perceptions of consumers surveyed October-November 2012. Your experiences may vary. Visit jdpower.com.