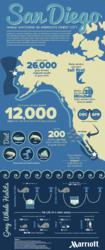 Marriott releases a whale of an infographic.
(PRWEB) March 11, 2013
The warm waters of the Pacific Ocean along southern California's coastline are a popular shared destination as vacationers from around the world make their way to enjoy fun in the sun and gray whales from the Arctic Sea migrate there annually to give birth to their young.
Beautifully described and illustrated in an exciting new infographic on the tumblr blog by Marriott International, gray whales dominate these temperate ocean waters every December through April. Whale watching tours are an exciting option for travelers to San Diego, Dana Point, Newport Beach, Los Angeles, Laguna Beach and other popular destinations. Just as the whales make use of the warmer climate, the blog by Marriott is captivating travelers world-wide by providing inspiration to help travelers plan their next adventure. Posting a remarkable and educational infographic poster about the Whale migration, Marriott emphasizes the significance of this 12,000 mile journey by detailing the culture of the gray whale's annual migration and the dangers these massive mammals face in maintaining their existence.
Birthing their calves in the warm lagoons and shallow bays of these sheltered waters is unique to the 26,000 gray whales that migrate south each year and provides a spectacle of grand proportion for those who take the time to watch these 35-ton mammals swimming off the southern California coast. Inhabiting the waters during this annual migratory period, the whales give birth to 1,100 pound calves which learn to swim within the first 30 minutes of their life. During their migration the whales feed off the ocean floor consuming tons of plankton, krill, shrimp, squid and mollusks before returning to the cold waters of the Arctic Seas.
The popular whale watching tours which are so popular during this season allow visitors from around the world the opportunity to marvel at these magnificent creatures and enjoy the wonder of nature through the cultural habits of one of the largest mammals on Earth.
Celebrating this remarkable journey and other events, attractions and cultures around the world, the tales of exciting places, exceptional travel experiences and unforgettable locations are notably expressed in the Marriott blog with continual updates to help travelers stay abreast of some of the finest vacation spots in the world.