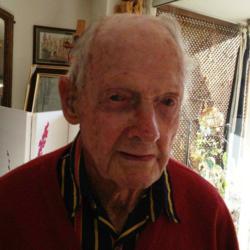 AMD difficult to prevent with a healthy diet alone
(PRWEB UK) 12 March 2013
For over 10 months Nick Carter has been taking Macushield® , the once-a-day-supplement developed to slow down the progression of Age Related Macular Degeneration (AMD) – A condition responsible for half of all cases of blindness in the Western World. Today, Nick speaks out, revealing how MacuShield® has helped save him from potentially becoming blind.
Nick Carter 89, was first diagnosed with AMD initially in his right eye, in 2008. Being health conscious, Nick lived a healthy lifestyle and maintained a well balanced diet, however one day found he was fighting for his sight.
Age-Related Macular Denegeneration causes loss of central vision robbing the individual of all but the outer most peripheral vision, leaving only dim images or black holes at the centre vision. Unfortunately carotenoids needed to help maintain healthy eyes are not widely found in even the healthiest foods, making AMD difficult to prevent with a healthy diet alone.
Nick's AMD came as a sudden shock to the family. Wasting no time, he started his treatment to battle against AMD. Every 6 weeks Nick had to have an injection to his diagnosed right eye, an experience he described as "terrible".
In 2011 the devastating news of AMD took a dramatic turn - Nick was further diagnosed with AMD in his left eye – and so in desperation and losing all hope, Nick took the decision to stop the routine injections after no perceived improvement.
Months later Nick heard about MacuShield®, a once-a-day supplement containing all three macular carotenoids Lutein, Zeaxanthin and uniquely Meso-Zeaxanthin needed to maintain healthy eyes. With nothing left to lose Nick began taking MacuShield® as part of his daily routine, only to find what he expressed as "miracle results".
Nick Carter stated in an interview "In just under 2 years I have had 14 injections and it wasn't much fun .... Since taking MacuShield® even the eye specialists are very surprised. They were expecting to see both eyes gradually deteriorate. Instead they describe the eyes as being 'stable'." This case reinforces recent clinical trials, conducted at the Waterford Institute in Ireland, suggesting that by taking MacuShield® once a day, macular pigment is increased, leading to enhanced vision.
Nick went on to say, "I feel as if the vision in my left eye has improved, I can now read the paper without having to wear glasses".
A respected nutritional eye health expert Dr Mark Kirby stated "Supplementation with meso-zeaxanthin, zeaxanthin and lutein (i.e. MacuShield) is proven to enhance visual performance, both in terms of improved contrast sensitivity under normal daylight conditions, and under conditions of glare." A recent declaration (2012) now proved accurate.
Recommended by 70% of Opticians, Ophthalmologists and eye health professionals in the UK, MacuShield® with its scientifically proven and patented formula has become the fastest growing daily supplement in leading pharmacists and drug stores, costing only 50p per day.
Laurence Smith, Managing Director at Zeon Healthcare, the pharmaceutical distributors for MacuShield® states "The reason for strong growth of MacuShield® is simple. We have one pair of eyes and their health is precious to us all. It is a blow to some people when they have to start wearing glasses but can you imagine how traumatic it is to be told that you have a condition such as Age Related Macular Degeneration, which will lead to blindness? It's proven that MacuShield® is the only product which has clinical evidence to substantiate its usage in this field."
Laurence Smith went further to say "Government statistics show that we are all living longer. There are more people aged over 50 years than teenagers today and the longer we live the greater the necessity to maintain eye health. Uniquely MacuShield® does that very effectively and as such it has been the product of choice for recommendation by eye health professionals."