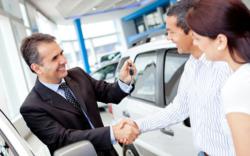 With this new process, we can get our clients approved for financing faster than ever...
Milwaukee, WI (PRWEB) March 11, 2013
Wisconsin Auto Finance, one of the Badger State's most trusted financing firms, is pleased to announce the launch of a new product: their online loan-matching service. The company assists clients in their search for both good and bad credit auto loans in Wisconsin, and the introduction of this new technology brings that search onto the web.
Users can apply online by submitting the company's easy-to-use credit application. It is only one page long, and requires many fewer questions than some competitors. All data transmissions are protected via secure socket layer (SSL) encryption, in order to protect applicant data. The company has relationships with lenders across the state, many of whom can accept users for financing through this online platform. Once the applicant's application is placed with a lender, they can work out the specific details of their loan and provide any additional documentation, such as proof of income.
The company's senior official remarked, "With this new process, we can get our clients approved for financing faster than ever, and it is particularly helpful to clients who are struggling with credit problems." This official went on to report that the company is able to place the applications of 90% of their applicants, and most users receive a response within an hour of submission. The company's website has an entire section dedicated to subprime applicants, which can be accessed here, and there is no minimum credit score required for application.
About Wisconsin Auto Finance: serving the entire state, Wisconsin Auto Finance is fast becoming one of the most trusted names when it comes to auto loans in Wisconsin. Their speed of service, support, and industry-leading technology continue to make them a popular choice among Wisconsin credit-seekers.