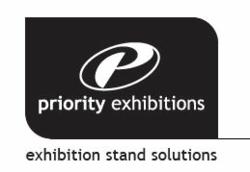 Leading exhibition stand design company which designs, manufactures and installs its solutions.
Coventry, UK (PRWEB) March 13, 2013
Priority Exhibitions was founded in 1989 and since then has become one of the leading providers of custom exhibition stands, shell scheme interior cladding, canvas prints and vinyl lettering solutions in the UK. Recently, the firm has launched more cost-effective portable systems, direct to media print, pop-ups, and banner stands.
Exhibition contractors always need the best artworks and graphics for various exhibitions conducted by them on a day-to-day basis. Apart from looking at unique and creative pieces, these contractors also want reasonable prices for the products they purchase as they often buy these exhibition items in bulk. Priority Exhibitions is a UK-based provider of exhibition items and their inventory includes a wide range of products ranging from pop-ups and banner stands to high end artworks and graphics.
The experienced professionals at Priority Exhibitions pay close attention to every exhibition piece they create, offering consistent quality in all of their exhibition graphic products. All creations are installed quickly and projects are always delivered within the stipulated deadline.
Click here to know more about exhibition graphics by Priority Exhibitions.
Talking about the expertise of its work-force, the managing partner of Priority Exhibitions was quoted as saying – "Our staff members have over 30 years of experience and have helped the company build a reputation of delivery precise projects within stipulated deadlines. Diligently providing top-class services has made many leading exhibition contractors permanent customers of the company. We cater to big complicated projects as well as smaller booths with simpler projects."
Some of the popular items and services sold by the company include pop-ups and banner stands, canvas prints, shell scheme cladding, 3D lettering, shell scheme interiors, inkjet prints in a range of sizes, wrap around ink jets, artworks, vinyl lettering, and on-site installations.
The company offers a variety of choice when there is a need to dress Shell Scheme interiors and believes in offering customised solutions for every requirement. The help and support team at Priority Exhibitions works in sync with its customers to come up with the best possible products.
Talking about the customised solutions provided by the company, their chairperson said - "Our custom-built Shell Clad Schemes provide a modular system of panels and poles that are easily adaptable for any exhibition size or venue. This is one of the most cost-effective options with installation and dismantle provided."
The company has now launched contemporary portable display products including pop-up stands and banner displays to cater to small to mid-size businesses.
About the Company
Priority-Exhibitions.co.uk is one of the leading UK-based suppliers of exhibition products and services such as banner stands, artworks, graphics, pop-up stands, shell scheme interior cladding and much more. Exhibition contractors of all sizes purchase products from the company for their day-to-day exhibition requirements.
To know more about the company and its offerings, visit their official website http://www.priority-exhibitions.co.uk , call them on (+44) 02476 843 181, or email them at info(at)priority-exhibitions(dot)co.uk