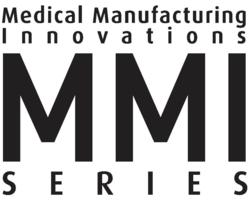 Dearborn, Mich. (PRWEB) March 08, 2013
Medical manufacturing is, arguably, the most driven by innovation. It also faces hurdles to innovation that are particular to the industry.
The Society of Manufacturing Engineers (SME) aims to help medical device manufacturers generate innovations and overcome these barriers with its new Medical Manufacturing Innovations (MMI) Series.
Due, in part, to aging baby boomers, and to the exploding advances in technology, medical manufacturing is among the industry's fastest growing with more than $90 billion in revenue in North America alone. It is also one of the most stable with less susceptibility to the ups and downs of the economy.
However, medical device manufacturing is also the most regulated segment, with many new technologies requiring stringent premarket approval.
"It's a Catch 22. The most innovative companies are the most successful, yet the challenges to innovation – regulation– result in technological decisions that are made very early in the product cycle," said Lauralyn McDaniel, SME medical industry manager. "The Medical Manufacturing Innovation series looks to help facilitate technology exchange and improve the product development cycle."
Drawing on the rich manufacturing resources of SME and the experience of its members, the MMI series aims to serve as a critical connector for the industry's "best and brightest" thought leaders and visionaries.
Through a range of creative forums and resources, SME expects to bring forward inventive and pioneering ideas and new, leading-edge approaches. The series will also provide a 'road-best-travelled-map' for navigating often challenging terrain.
A key component of MMI will be live, interactive panel discussions and new technology displays and demonstrations, held throughout the year at SME events nationwide. Each series will be localized to the region and/or technology of the particular event, and will include live streaming of some segments.
Next month at the MicroManufacturing Conference in the medical manufacturing center of Minneapolis, MMI will go beyond micro to focus on innovation challenges, process improvement and quality.
At RAPID 2013 Conference and Exposition, in Pittsburgh this June, MMI will highlight examples and stories of the many ways additive manufacturing is used for medical and dental devices, including customized implants, final production of surgical devices, and the printing of bone scaffolds and human organs.
In October, MMI will be a feature at both the Canadian Manufacturing Technology Show in Toronto with a strong focus in plastic molding and machining and at WESTEC in Los Angeles highlighting a wide variety of technologies reflecting the breadth of the Southern California device market.
"We want to put new technology and tech know-how on display while examining challenges and processes and looking for ways it could be approached and used differently," said McDaniel.
MMI will augment a wide range and long-standing tools currently offered by SME in the area of medical manufacturing, including its daily newsletter, regular series of webinars, annual yearbook, and a Manufacturing Engineering media channel devoted specifically to medical manufacturing.
For more information, visit http://www.sme.org/mmi/. Follow us on Twitter @SME_MEDmfg. Find us on Google Plus, Facebook and LinkedIn by searching for the term "SME Medical Manufacturing."
About SME:
The Society of Manufacturing Engineers (SME) is the premier source for manufacturing knowledge, education and networking. Through its many programs, events, magazine, publications and online training division, Tooling U, SME connects manufacturing practitioners to each other, to the latest technologies and to the most up-to-date manufacturing processes. SME has members around the world and is supported by a network of chapters and technical communities. A 501(c)3 organization, SME is a leader in manufacturing workforce development issues, working with industry, academic and government partners to support the current and future skilled workforce.