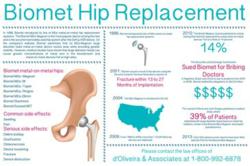 (PRWEB) March 10, 2013
In 1994, Biomet introduced its line of metal-on-metal hip replacement systems including the M2a-Ringloc, M2a-Taper, M2a-38, and M2a-Magnum. According to the press release "The Performance of Modern All-Metal Bearings" from Biomet Orthopedics, over 110,000 patients were implanted with the M2a-Magnum from 1999 to 2009.* The Chicago Tribune reported that this hip device is the second most popular metal-on-metal hip implant after the DePuy ASR.** Biomet advertises on its website that the M2a-Magnum hip replacement system is durable and stable and that the metal-on-metal design helps the device resist wear and the large diameter head provides potentially greater motion and stability.***
The results of recent medical studies have shed new light on important safety information regarding metal-on-metal hip implants and large diameter heads. An article published in the British Medical Journal has raised concerns about the durability of metal-on-metal hip implants. The British Medical Journal article reported that total hip replacement surgeries using metal-on-metal devices failed at a rate of 13.6 percent compared to hip devices made of other materials, which failed at a rate of 4.9 percent.**** In another study published in the Journal of Bone and Joint Surgery, 39 percent of patients implanted with large diameter head metal-on-metal hip implants developed pseudotumors.*****
"The Biomet infographic was released by our law firm in order to raise patient awareness about injuries that may be caused by metal-on-metal implants," said attorney Paul d'Oliveira. "The tort system is intended to compensate innocent patients for injuries caused by doctors implanting a device or a defective device itself."
The Biomet Hip infographic lists possible side effects as well as providing patients with information on medical studies about metal-on-metal hip replacement systems. Additionally, the infographic provides information about a recent settlement between Biomet and the Security Exchange Commission for violations of the Foreign Corrupt Practices Act.******
Visit the Biomet webpage and view the infographic HERE!
If you or a loved one has experienced metal-on-metal side effects from the Biomet M2a-Magnum, you may want to speak with a lawyer regarding a potential claim. A personal injury attorney familiar with new developments regarding Biomet devices may be able to help you make important personal and legal decisions. d'Oliveira & Associates, P.C, is working with some of the leading metal-on-metal lawyers in the country who are handling these cases.
Please contact the law offices of d'Oliveira & Associates, P.C. at 1-800-992-6878 or fill out a contact form for a free legal consultation.
Sources:

biomet.com/campaign/trueAlternativeBearings/BOI04401ThePerformance.pdf
** articles.chicagotribune.com/2012-07-12/business/sns-rt-us-johnsonandjohnson-implantsbre86b060-20120711_1_metal-on-metal-hip-asr-mindy-tinsley
*** biomet.com/patients/m2a_magnum.cfm
**** bmj.com/content/344/bmj.e1410
***** ncbi.nlm.nih.gov/pubmed/22628588
****** sec.gov/news/press/2012/2012-50.htm