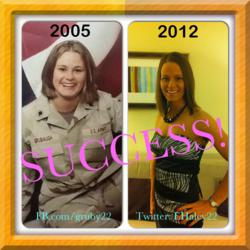 My favorite Erika quote was that six pack abs get created in the kitchen, not in the gym
Bozeman, MT (PRWEB) March 09, 2013
Erika Haley is a real weight loss success story and the Heart Rate Watch Company blog is sharing her story with all those who aspire to lose weight and succeed.
"We are very proud of Erika as she represents a great role model for taking the right approach to weight loss and regaining control of her life and health", says Rusty Squire, President of the Heart Rate Watch Company. He adds, "We were excited when Erika agreed to share her story".
Erika purchased a heart rate monitor from the Heart Rate Watch Company three years ago as part of her fitness commitment. "My favorite Erika quote was that six pack abs get created in the kitchen, not in the gym", says Squire. He adds, "When I saw that quote I just knew her head was in the right place for success all the way".
Sharing the success
Erika used Curves for Women in the beginning and started running a lot. She then added Beach Body to her routine and is now a certified Beach Body Coach and has incorporated Shakeology into her nutrition program.
"People that have always known success don't make the best stories, it is the people that had to struggle to get away from difficulty and this is why we felt it would be so inspirational to share Erika's story with those looking to regain control of their lives and weight", says Squire. He adds, "We want to thank Erika for having the courage to stand up, share that story, and be a true role model and inspiration for others".
Products for weight loss
Heart Rate Watch Company sells a number of heart rate monitors that work well for weight loss. The Polar FT40 does a division of calories total and from fat, as does the Polar FT60, so there are several heart rate monitors to choose from. "The key with weight loss is working out at the proper intensity so your body burns fat for fuel", says Squire.
If you would like to read Erika Haley's story simply visit the Heart Rate Watch Company blog.