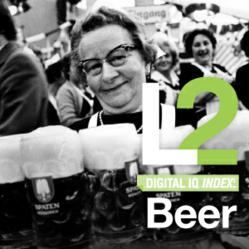 As of yet, no beer brand has invested in digital as its primary differentiator.
New York, NY (PRWEB) March 08, 2013
Heineken earned the No. 1 ranking in L2's inaugural Digital IQ Index®: Beer study, released today. With best-in-vertical social media engagement, strong investments in mobile, and successful digital outreach with its Skyfall partnership featuring Daniel Craig, Heineken sets the industry standard for digital excellence. This inaugural report, authored by Scott Galloway, NYU Stern Clinical Professor of Marketing, and a team of researchers at L2 Think Tank, benchmarks the digital competence of 50 Beer brands on 675 data points across four dimensions: Site, Digital Marketing, Social Media, Mobile.
Download the full rankings and key findings:
http://l2thinktank.com/research/beer-2013
Watch our animated video that offers additional insights:
http://vimeo.com/l2thinktank/digitaliqbeer2013
Top 20 Digital IQ Ranking:
1. Heineken
2. Budweiser
3. Stella Artois
3. Bud Light
5. Samuel Adams
6. Coors Light
7. Sierra Nevada
8. New Belgium
9. Blue Moon
10. Guinness
10. Miller Lite
12. Beck's
13. Pabst Blue Ribbon
13. Widmer Brothers
15. Corona
16. Redhook
17. Shiner
18. Saranac
19. Newcastle Brown Ale
20. Rolling Rock
"The industry is currently bifurcated between large premium brands that view digital as an opportunity to amplify offline content and craft brewers that use it as a forum to engage with fans. As of yet, no beer brand has invested in digital as its primary differentiator."
-Maureen Mullen, Head of Research & Advisory, L2 Think Tank
Study Highlights:
Lonely at the Top
The beer industry is woefully behind the digital curve, with 60 percent of brands earning Digital IQs of Challenged or Feeble—the worst overall performance of any vertical L2 measures. The only Genius brands, Heineken and Budweiser, distance themselves from the pack through cross-platform campaigns, strong mobile offerings, and large social communities.
Socially Traditional
Despite relatively large communities and strong engagement on Facebook and Twitter, the beer industry, as a whole, has been slow to adopt emerging social media platforms: Only 61 percent of brands maintain Instagram accounts, a mere 6 percent have official Tumblr accounts, and just 8 percent have any presence on Pinterest—an absence likely due to the pinning platform's predominately female user-base.
Brand Sponsorship
Almost 20 percent of Beer brands have sponsorship sections on their sites, typically featuring sports, music, or charity partnerships. Bud Light promoted its return to NFL sponsorship in 2011 with Bud Light Fan Camp, national TV commercials, in-store promotions, and the Bud Light Huddle, all part of a strategy that is paying off: research suggests nearly half of fans now recognize Bud Lite as an official sponsor of the league.
Empty Inbox
Beer brands largely avoid email marketing, despite its effectiveness in helping retail brands build loyalty with fans and keeping customers informed of new products and campaigns. Though more than two-thirds of the brands in our Index offer email signup, just 36 percent actually follow through with any kind of correspondence—and only three brands sent something other than a generic welcome note.
About L2
L2 is a think tank for digital innovation. Founded by NYU Stern Clinical Professor of Marketing Scott Galloway, L2 helps prestige brands navigate the digital marketing landscape through events, research, and advisory services. The L2 Digital IQ Index® is the global, seminal benchmark for digital performance of brands and the largest and most robust study of its kind. Rankings are published annually across numerous industries, including: Luxury, Beauty, Retail, Travel, Spirits, Auto, and consumer packaged goods. For more information, visit: http://www.l2thinktank.com.
###