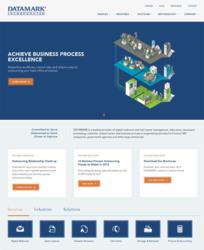 El Paso, TX (PRWEB) March 09, 2013
DATAMARK, Inc., a leading provider of global business services, announced today the launch of its redesigned website at http://www.datamark.net.
The new site offers visitors an easy-to-navigate view of the wide array of business services and process improvement solutions offered by DATAMARK. Services include high-volume scanning for back-file paper-to-digital conversion projects, digital mailroom management services for large enterprises, bilingual customer contact center services, and consultation services focusing on business process improvement.
The site has been optimized for mobile devices with a fluid, responsive layout that adapts to the screen size and orientation of visitors' tablets and smartphones. The design also incorporates "sticky" navigation menus that move along the page as the user scrolls down, making it easy to navigate to different pages and sections of the website.
"We're very pleased with the ease-of-navigation of the new site and the ability of visitors to quickly find and download white papers, case studies, brochures and other resources related to DATAMARK's business services," said DATAMARK Marketing Coordinator David Peregrino. "Of particular importance in our site redesign was making it fast and fluid on tablets and smartphones. According to the Pew Research Center, almost one out of every three American adults owns a tablet, and nearly half of all American adults own a smartphone. More and more, consumers are using mobile devices to learn more about products, services and the businesses that provide them."
DATAMARK, Inc. is a leading business process outsourcing company specializing in high-volume digital mailroom management, document processing, document management and bilingual customer contact centers for Fortune 500 firms and other large organizations. Headquartered in El Paso, Texas, DATAMARK employs nearly 2,200 people in its U.S., Mexico and India facilities.
For more information, visit http://www.datamark.net. Follow industry news and trends at DATAMARK's Outsourcing Insights blog at http://www.datamark.net/blog.