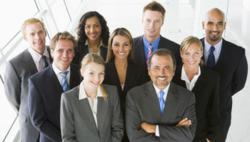 ND-SBN has built several strategic partnerships to help members manage their work-life balance in an efficient manner.
Washington, DC. (PRWEB) March 11, 2013
Business professionals from all industries are sorely burdened by too many responsibilities and too little time. In an effort to remove at least some of these weighty concerns from the shoulders of its members, the North Dakota State Business Network is pleased to announce that it has introduced an exclusive Concierge Service for its members. This Concierge Service will help members find and make reservations for flights, hotels, restaurants and entertainment.
The Concierge Service is part of the North Dakota State Business Network's ongoing commitment to enhancing the professional and personal lives of its members. By utilizing well-established relationships with major travel, dining and hospitality organizations, ND-SBN is able to offer premium services at remarkable discounts. Using our team of highly trained and knowledgeable network professionals, ND-SBN is able to book reservations to exclusive shows and dining establishments that may be unavailable through other channels.
North Dakota Offers Unique Opportunities for Business Professionals:
North Dakota is one of the country's most dynamic states with an economy that has surged in recent years. With the lowest unemployment rate in the country and the highest population growth, North Dakota has advantages that most states can only envy. The state's oil boom and vibrant economy have also helped generate a rapidly growing number of professionals and executives that ND-SBN has helped develop into a thriving community.
Concierge Service Promises Enjoyment without Hassles:
By leveraging long-standing partnerships with nationally recognized companies like Southwest Airlines, Enterprise Rent-a-Car and AMC Theatres, ND-SBN is able to deliver unique deals to its members. These deals not only provide members with exclusive opportunities and cash savings, but with the help of ND-SBN professionals, they can be offered to members without the hassle of searching the web, making a multitude of calls, and haggling with vendors. The new Concierge Service will allow members to experience the best that the state offers without the costs and headaches that usually accompany them.
About North Dakota State Business Network:
North Dakota State Business Network (ND-SBN) is a career and business development program established to promote job growth, commerce and networking. It is equipped with the tools, expertise and connectivity to help businesses expand their influence while forging strategic alliances necessary to attain higher levels of achievement. With its integrated infrastructure, ND-SBN holds a powerful online platform for building fundamental connections on a local, state and national scale.