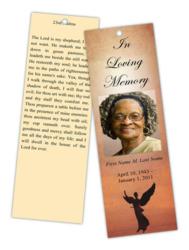 "These bookmarks are easy to make and serve as cherished keepsakes that friends and family members can carry with them as a remembrances of their loved ones' lives."
CHARLOTTE, NORTH CAROLINA (PRWEB) March 12, 2013
Elegant Memorials, a leader in online, photo-customized funeral program templates, recently redesigned and upgraded its ever-expanding website to include the sentimental yet popular memorial bookmark templates. These trendy keepsakes complement the line of full-color funeral program cover templates the company also carries, as well as templates for covers that don't use images at all!
Funerals and memorial services generally are changing, and the ways of honoring loved ones have been modernized, much like many other remembrances or celebrations today such as birthdays and anniversaries. Instead of paying a third party to create funeral programs or booklets, many are opting to do the work themselves not only as a way of saving on funeral costs, but to help heal from the sadness. Elegant Memorials can aid in the grieving process.
The redesigned website is perfect for customers who want to purchase funeral program templates without much hassle or slow download times.
"Our upgraded website platform provides a streamline and more secure shopping experience," said Kimberly Gibson, owner of Elegant Memorials. "We offer a quicker checkout system and download delivery service. Users can receive their downloads quicker and easier, so they can start creating their programs soon."
Elegant Memorials' products differ from various-size funeral program templates and plantable cards to thank you notes and memorial bookmark templates, the latter of which is one of the company's newer and more popular templates.
"The new bookmarks are the perfect complement to funeral programs," Gibson added. "These bookmarks are easy to make and serve as cherished keepsakes that friends and family members can carry with them as a remembrances of their loved ones' lives."
Other products available that can help clients create amazing funeral programs include:
-- Full-Color Funeral Program Template Covers: Available in select designs, full-color covers give customers more options when designing programs.
-- Funeral Program Templates (w/out cover image): This design is for those who don't want or do not have an image on the front of a funeral program.
-- Plantable Cards: A unique and "green" way of remembering a cherished soul. Plant these embedded cards and watch a loved one bloom!
-- Funeral Order of Service Template: Outline your entire service for your guests. This template is formatted in the A4 size, which is suitable for international paper sizes.
Want to start your own funeral program template business? Elegant Memorials offers its customers more than just downloadable templates. The company also helps potential clients realize their dream of owning their own business and working from home by helping them create beautiful and professional looking funeral programs to sell to others. In just a few clicks, would-be business owners can purchase packages of 30, 65, or even 110 different templates. These packages give customers the opportunity to own many of Elegant Memorials designs and layouts at significantly reduced costs per template.
About Elegant Memorials
Elegant Memorials is a privately owned corporation based in Charlotte, North Carolina. It assists families and funeral directors with providing personalized funeral and memorial printing. Elegant Memorials also offers a range of funeral and memorial planning articles, too, including "How to Write an Obituary," as well as steps on how to create eulogies, perfect memorial services, and funeral thank you notes, as well as many more.